The mission of archerfriendly is to educate people about natural health in an approachable and entertaining way
My name is Archer Atkins, and I founded archerfriendly in September of 2009. I am on track to graduate from Bastyr University's Naturopathic Medicine degree program in 2013, offering credibility most other online writers can not provide their readers.
I do this through articles on alternative food recipes, naturopathic medicine, life management, emotional health, and spirituality.
Statistics (as of December 2012)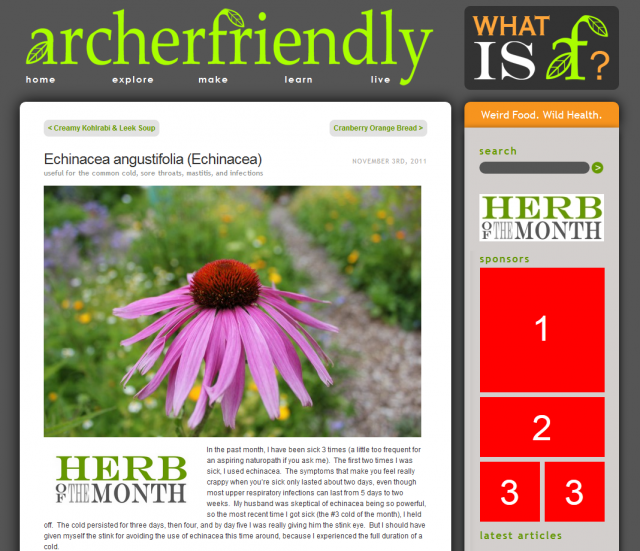 Archerfriendly has grown into an ever-expanding community of readers who are interested in many aspects of natural health. With over 125 articles, and at least two being added weekly, the amount of unique visitors is growing at a rate of about 20% monthly.
Pageviews per month are over 3000, unique visitors per month are over 1500, and both continue to grow.
Average visit on the site is 2 minutes across 2 pages, allowing plenty of time to view the entire page.
Rate of new visitors is consistently over 75%, with about 60% of all visitors come from organic search results.
Over 600 subscribers through Facebook, Twitter, RSS, and email that regularly share my content through social media, exposing it to others.
Opportunites
I am committed to growing this site as a vast resource of natural health for others by regularly producing quality content. I would love for you and your business to partner with me on this journey to success!
Please take a look at my Advertising Kit for further information and pricing, then contact me if you are interested.