raw collard greens spun with natural turkey and fresh oregano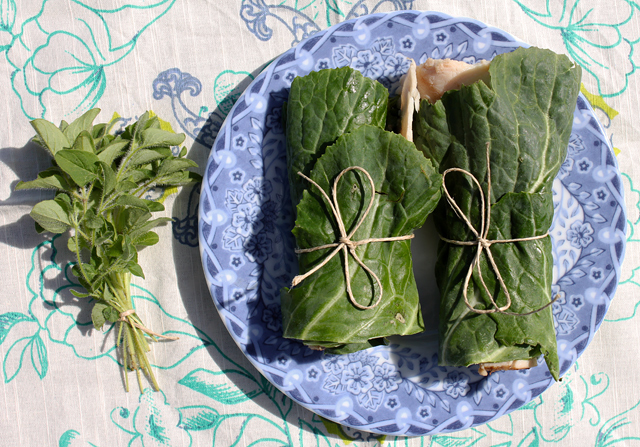 Morning hurried mode is the worst.  Ten minutes after your departure time, you are still eating your mung bean breakfast soup (although it is more like you are drinking it), waiting for your French pressed cardamom coffee to brew, while simultaneously trying to chop some fresh blueberries in half for your 10 month old baby, making sure they do not splatter on your dress clothes.  You have completely underestimated how long it takes to get ready in the morning, and now you have less than FIVE minutes to throw together an allergy friendly, blood sugar balanced, protein packed lunch.
Where to turn in this need-a-packed-lunch-now frenzy?!  Gobble Up Collard Roll-Ups.
By preparing some raw collard green leaves in advance, you can make a gourmet lunch in morning hurried mode.  Or you can forget about morning hurried mode and move into fun picnic mode. Gobble Up Collard Roll-Ups would be an excellent choice for an easily portable, FUN, archerfriendly picnic on the beach.  The fresh oregano paired with thin slices of purple onion adds that south Jersey Italian sandwich goodness.  The stone ground mustard matches the zesty bite of the raw greens, and the natural turkey deli meat rounds it all out.
Preparing the raw collard green leaves in advance sounds way more complicated than it is.  After washing them, de-stem the greens by using culinary shears to cut the leaves as close to the stem as possible.  One collard green leaf makes two raw green wraps.  But don't stop at one leaf!  Do the whole bunch.  Loosely wrap the leaves-turned-wraps in a paper towel and store in an airtight container in the fridge.  Prepping the leaves like this creates day-old collard leaves that are pliable and tender, ready whenever you need it!
However, if you're in morning late mode, you may want to skip the fresh oregano, stone ground mustard, and purple onion, and just call it a lunch with the collard greens and turkey.
Gobble Up Collard Roll-Ups

Ingredients

1 slice of all natural turkey lunch meat (nitrate free!)
1/2 of a very large collard green leaf
1-2 long slivers of fresh purple onion
a nice handful of fresh oregano
stone ground mustard

Makes 1 roll-up

Lay collard green leaf open on a large plate.
Place 1 slice of all natural turkey lunch meat directly on top of the leaf.
Add stone ground mustard, fresh oregano, and onion.
Roll away!
Thanks for reading! Enter your email to send new articles directly to your inbox: