useful for tooth pain, topical anesthesia, cavity prevention, & insect repellency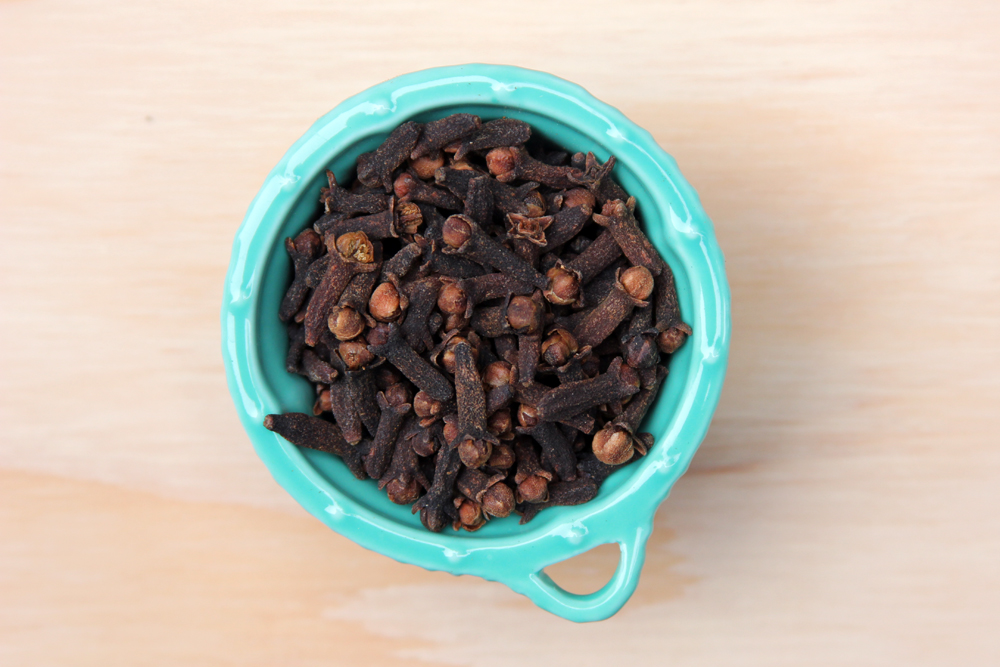 When I think of cloves, the first thing that comes to my mind is a pick axe, a ginormous ant hill, and clove cigarettes. There was a kid on my first high school Africa trip who got in big trouble for smuggling his clove cigarettes to Zambia. Instead of sending him home solo on a plane from Africa to the U.S., our trip leader decided that for the rest of the trip, all of his free time would be spent on a taller-than-man ant hill with a pick ax. In other words, he had to chip away at the ant hill with the pick ax, for an hour, every single day. For the record, clove cigarettes are worse for you than regular American cigarettes, so don't let the natural clove part fool you. The cloves both numb and bronchodilate your lungs, which results in deeper inhalation of the toxic smoke.4,5
Have you ever noticed that whole cloves look like little flower buds? That's exactly what they are. Whole cloves are dried flowers that were picked before they opened.
Tooth Pain
One time I went to the dentist with severe tooth pain after a composite filling. He told me it was because I had triple A personality. Maybe if I had used some cloves to mitigate the tooth pain, he would have said I had the single A personality instead of the triple kind. It is the essential oil in cloves, namely eugenol, that enables it to numb dental pain. A randomized, controlled study compared a homemade clove paste to benzocaine gel in their ability to decrease the pain of a needle stick. Both the benzocaine gel and the clove paste lowered pain in comparison to the placebo. No significant difference was found between the clove paste and the benzocaine, which means that cloves can work just as well as benzocaine.1 The American Dental Association actually accepts the use of cloves for professional use.
The homemade clove gel mentioned in the study above was made by grinding whole cloves and then mixing them with glycerin. The study use a 2:3 ratio, with 2 parts cloves to 3 parts glycerin. Note that the homemade clove remedy was made from whole cloves that were freshly ground. Once cloves are ground, the essential oil in them disintegrates rapidly, which means that the anesthesia effect will diminish as there is less and less essential oil available. Making a clove paste from the ground cloves you bought at the grocery store won't be as effective as freshly grinding your own whole cloves.
Essential Oil
Essential oil, otherwise known as volatile oil, is the main chemical constituent responsible for cloves' medicinal properties. Although essential oil is found in whole plants or plant parts, the term is also used to describe the actual essential oil that has been extracted from the whole plant through a process called steam distillation. Essential oils of plants are very powerful forms of medicine that should only be used in drop doses. Clove essential oil is analgesic, antimicrobial, antiviral (can be used for warts), and antifungal. It fascinates me that a study found clove essential oil to inhibit cavity causing bacteria (Streptococcus mutans & Porphyromonas gingivalis).2
Dr. Archer's Concerns
I have two big concerns when it comes to using cloves medicinally:
1. Contamination
Non-organic cloves can be contaminated with heavy metals and organochlorine pesticide residue. If you're using non-certified organic clove essential oil, you'll also be getting a heavy dose of these toxic environmental contaminants. If you're a regular chai drinker like myself, make sure your chai is organic, since cloves are an integral part of the traditional chai spice blend.  Otherwise, you'll be drinking pesticide chai!
2. Safety
I don't like the use of clove essential oil for a baby's teething gums because of the potential for clove toxicity. There are five published, pediatric case reports that motivate this concern. Each case is summarized and referenced in PubMed at Natural Standard, which is where I obtained the following information:
A 2 year old had acute liver damage after ingesting 10 mL of clove essential oil.
A 2 year old had disseminated intravascular coagulation and hepatocellular necrosis after ingesting clove essential oil (amount unknown).
A 15 month old went into fulminant hepatic failure after ingesting 10 mL of clove essential oil.
A 3 month old went into fulminate hepatic failure after ingesting less than 8 mL of clove essential oil.
A 7 month old went into central nervous system depression after ingestion of 1 tsp clove oil (it was mistaken for mineral oil).
Besides the risk of whole body clove toxicity, when too much clove essential oil is applied directly to the gums, it can kill some of the fibroblasts living in the gum tissue.3  Fibroblasts are cells that help to keep the gum tissue intact. This makes the use of clove essential oil on baby's teething gums all the more riskier. The cytotoxicity of clove essential oil is certainly a dose dependent response (lower doses are not cytotoxic), but it's very easy to overdo it if you don't know what you're doing, so avoid using it on your baby.
If you have children in your home, clove essential oil should be stored both out of their sight and out of their reach. It would be best to keep it in a locked cabinet.
If you would like to start using  Syzygium aromaticum medicinally, please consult your naturopathic doctor. A licensed healthcare practitioner can tailor the dose according to your needs.
References
1. Alqareer A, Alyahya A, Andersson L. The effect of clove and benzocaine versus placebo as topical anesthetics.  Journal of Dentistry. 2006 Nov;34(10):747-50. Epub 2006 Mar 13. 2. Yazmín Rosas-Pi˜nón, Alicia Mejía, Gloria Díaz-Ruiz, et al. Ethnobotanical survey and antibacterial activity of plants used in the Altiplane region of Mexico for the treatment of oral cavity infections. Journal of Ethnopharmacology 141 (2012) 860– 865. 3. Natural Standard Professional Database. Clove Monograph. 4. Sherman, John A., N.D. The Complete Botanical Prescriber. Third Edition, 1993. 5. Sargenti, Sarah. Clove-Flavored Cigarettes More Dangerous? abcNEWS: Health. October 10, 2009. <http://abcnews.go.com/Health/WellnessNews/clove-flavored-cigarettes-dangerous/story?id=8780899>
Thanks for reading! Enter your email to send new articles directly to your inbox: