freshly sliced avocado atop lightly toasted bread, drizzled with olive oil and sea salt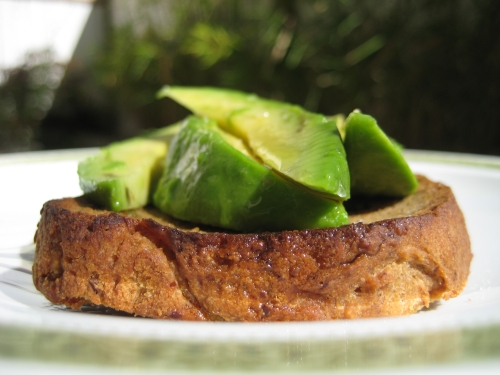 The graceful taste of this simple sandwich is dependent on freshly baked and freshly toasted bread.  When I'm low on time, I use Pamela's Gluten-Free Bread Mix with a few archerfriendly additions (I will post it soon).  Pamela's Gluten-Free Bread Mix is technically not a whole food because it contains white rice flour.  Its not completely lacking in the whole grain department, so I consider it a borderline archerfriendly food.  What I like best about Pamela's is that it takes very little time to whip together a high quality, desirable loaf of bread, and its fairly inexpensive if you buy it in bulk .  For me, the time factor and the product quality (doesn't taste like cardboard and doesn't fall apart like sand when you bite into it) override the fact that it contains refined grain.
Open Faced Avocado Sandwich

Ingredients

2 Pieces of Toasted Bread
Extra Virgin Olive Oil
1 Avocado
Sea Salt

Makes 1 Sandwich

Toast bread.
While bread is toasting, slice avocado.
When the toast is done, divide the avocado slices and place on each piece of toast.
Drizzle with extra virgin olive oil.
Garnish with sea salt.
Thanks for reading! Enter your email to send new articles directly to your inbox: