creamy, sweet & spicy chicken Thai soup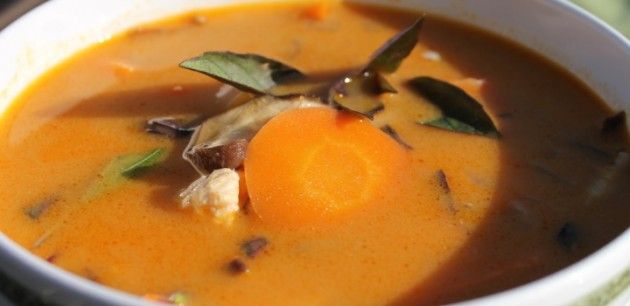 This is the no fuss archerfriendly version of Tom Kha Gai Soup, currently my hands-down favorite soup.  The traditional version is made from scratch with bird's eye chilies, fresh lemongrass, galangal (Thai ginger) and fresh Kaffir lime leaves, but this is the no fuss version, so I use Thai red curry paste instead.  Although I love making this soup from scratch, I haven't noticed a huge compromise in flavor by using the curry paste.  It saves me an extra shopping trip to a special store to fetch all the special ingredients.  Plus, I'm not breaking my knife trying to chop up the fresh lemongrass to brew in the broth.  Much easier to use the curry paste, and oh, so delicious.
This soup also offers some immune boosting properties due to the shiitake mushrooms it contains.  Shiitake mushrooms are used medicinally to modulate the immune system.  They are also antiviral.
I would not substitute a different mushroom for the shiitakes.  They enlighten the soup with a delicate umami flavor.  If you never had them before, you are in for a treat!
Tom Kha Gai Soup

Ingredients

4 cups chicken broth
2 Tablespoons Thai red curry paste

1 Tablespoon fish sauce

3 quarter-sized slices of ginger (galangal if you're lucky), minced

 3 garlic cloves, minced

1 medium onion, chopped

1 small yam (or 1/2 a large yam), cubed

2 large carrots (or 3 small carrots), sliced

15-20 shiitake mushrooms, stems removed & sliced

2 chicken breasts, sliced and cut into bite sized pieces

1 14 oz can full fat coconut milk

a good handful of Thai basil

Makes about 5-6 servings

Total cooking time is about 1 hour

Place chicken broth, Thai red curry paste, fish sauce, ginger, garlic, & onion in a medium sized pot on medium-low heat.  Cover with a lid.  

After about 5 minutes, add the mushrooms.  

About 20 minutes after the mushrooms have been cooking in the soup, add the carrots.

About 5 minutes after the carrots have been cooking in the soup, add the yams and chicken.  Cook for about 30 minutes.  Turn heat down if it boils.  

Add coconut milk & turn off the heat.

Roughly chop Thai basil and add it to the soup.  

Notes

I used partially frozen chicken because its easier to slice.
Soup is flexible, so don't worry about your soup if you don't feel like following, the 5 minutes here and 5 minutes there bit.  I space out when different foods are added for optimal vegetable textures.
This is a no fuss Tom Kha Gai Soup, use galangal if you want, but regular ginger works just fine.
This soup has lots of broth (liquid-y).  The next time I make this, I'm going to add a bag of frozen organic spinach.  It has the space for more "stuff" in the soup and the greens help make the soup more complete as a meal, but I guess this addition would really make the recipe veer from the traditional Tom Kha Gai Soup.
Thanks for reading! Enter your email to send new articles directly to your inbox: