Tender and earthy bundt cake with cinnamon, cloves, & allspice
The secret to living a healthy, long life is to seriously limit your sweetener intake. I'm talking about all sweeteners (white sugar, honey, maple syrup, coconut sugar, molasses, etc.), because all sweeteners raise your blood sugar and mess up your healthy gut flora. While I've been drinking my fair share of pumpkin spice lattes at Caffe Ladro, and I've eaten more ice cream this summer than I have in the past 10 years, it is still my life's mission to eat as little sweeteners as possible (except for stevia).
Speaking of living a healthy, long life — I've recently been thinking about how if you want to eat trashy now, you might as well stop planning for retirement. What you eat and how you live now will affect how healthy you'll feel when you retire. If your health starts crashing right at 65, this could mean astronomical medical bills that either eat up your ability to work or your ability to play. So, that's why you should care now. The sweeteners you eat now, will affect how your body works later. Think of sweeteners as food that accelerates the aging process. Because that's what sweeteners do: they ruin your gut flora and beat up your insulin receptors. The worse both of these things get, the worse your health will be.
The sweeter the food, the faster you'll age (both on the inside and outside).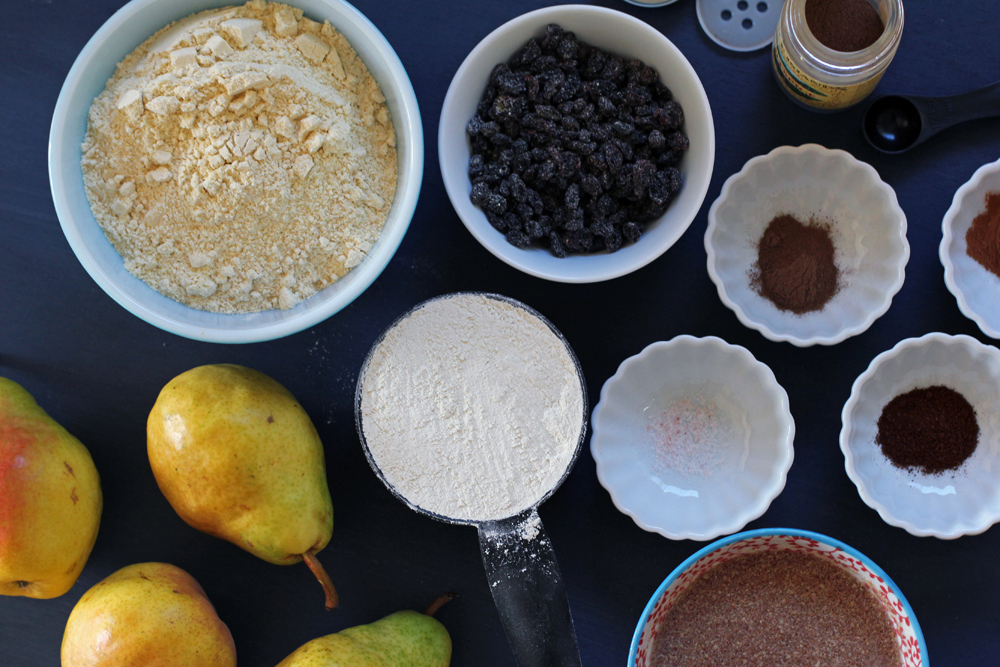 We need to retrain our taste buds to start liking foods to be less sweet. Because our body asks this of us. Our bodies were not made for the amount of sweeteners we've been eating. I'm talking to myself too. I have insulin resistance and I also have SIBO, so I'm the last person who should be eating any kind of sweeteners. I've seen it with my own health and in the health of my patients: the less sweeteners I eat, the better I feel, the healthier my body, the less sick I get, the more energy I have.
You can count on this: the less sweeteners you eat, the healthier you'll be.
This vegan, gluten-free spiced pear cake is an allergy friendly, de-sweetened version of Food Network's Pear Walnut Spice Cake. It's sweetened with a whole pear pureed into the wet ingredients (the riper your pear, the sweeter your cake) in addition to 2 Tablespoons of molasses. The Zante currant and chopped pear mix-ins contribute additional sweetness to each bite. My version of this cake is moist yet tender with a rustic vibe.
I actually made the Food Network version (with olive oil in place of vegetable oil) as one of the desserts for a fall harvest, vegetarian dinner party I hosted during my sophomore year at Penn State. This was back when I used to eat "normal". I'm surprised their recipe is still online after seeing that my paper copy was printed in 2003. The other desserts I made for that harvest party were pumpkin flan with pumpkin seed praline and my mom's pumpkin pie (with a Pillsbury crust). Don't you wish you were there!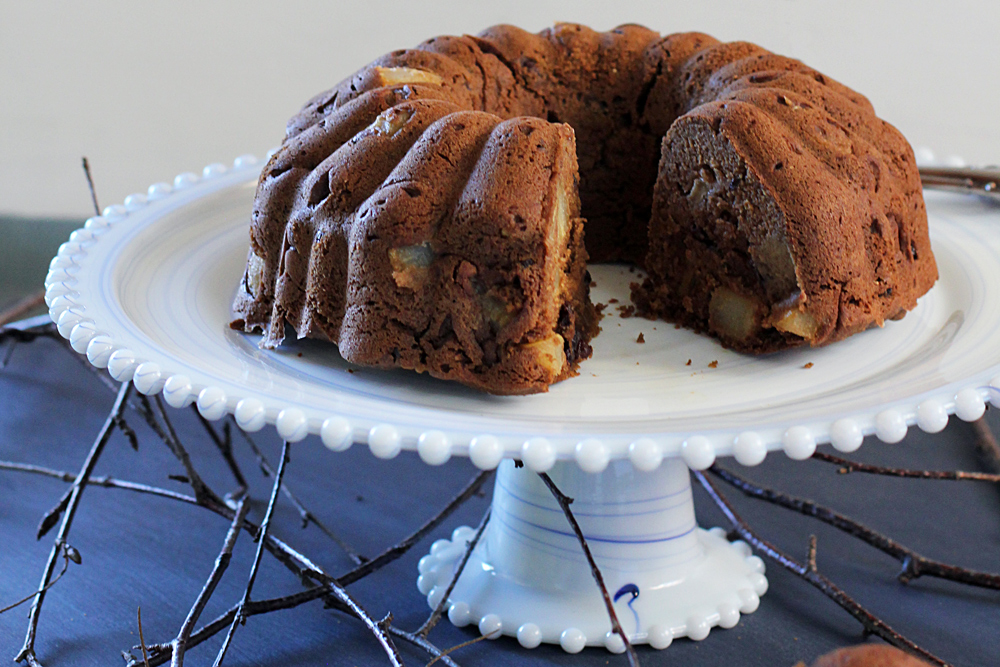 Autumn Spiced Pear Cake


adapted from Food Network's Pear Walnut Spice Cake


Ingredients

virgin coconut oil to grease the bundt pan

Dry Ingredients

1 cup quinoa flour
2 cups millet flour
1 teaspoon baking soda
1 teaspoon cinnamon
1/2 teaspoon allspice
1/2 teaspoon cloves
tiny pinch salt

Wet Ingredients

1/3 cup ground flax seeds mixed with 1/2 cup filtered water
2 Tablespoons blackstrap molasses
1/2 cup extra virgin olive oil
1/2 cup filtered water
1 whole pear (including skin), roughly chopped with the core removed
1/4 cup coconut milk
1 teaspoon vanilla extract

Mix-ins

1/2 cup Zante currants (or raisins chopped in half), gently packed into measuring cup
2 whole pears with skin, chopped into cube-ish rectangles

Makes 1 cake or 12 muffins

Preheat the oven to 350°F.
Liberally grease a 10 inch glass bundt pan with virgin coconut oil. If you are making muffins without paper liners, liberally grease 12 muffin holders in a muffin pan. If using paper liners, you can also oil the paper liners inside to have a clean-cut muffin when pulling off the liner.
Prepare flax seed mixture (1/3 cup ground flax seeds mixed with 1/2 cup filtered water) and set aside.
Mix together dry ingredients.
Sprinkle a spoonful of the dry ingredients on the Zante currants and toss around. This helps to prevent them from sinking in the cake.
Next, the wet ingredients are placed in a blender, preferably a Vitamix. Put the olive oil in first to help prevent sticking around the blades. Then add the flax mixture, 2 Tablespoons blackstrap molasses, 1/2 cup filtered water, 1 whole pear (including skin) — chopped and without the core, and 1/4 cup coconut milk. Blend well.
Combine wet and dry ingredients.  Mix.
Stir in the "mix-ins" (chopped pears and Zante currants).
Carefully spoon into bundt pan or divide batter evenly into 12 muffin liners.
Bake cake for 55-60 minutes. For muffins, bake for about 25 minutes.
Once cake has cooled for about 10-15 minutes, carefully turn pan upside down and remove cake. Make sure to remove the cake while it is still warm. It is delicate when handled warm, be careful.
After the cake has completely cooled, store in the fridge to chill the cake before cutting and serving. The cake holds together best and tastes best when it is cold.

Notes:

I baked the cake in a glass bundt pan I ordered online from Mighty Nest, as many bundt pants are coated with toxic Teflon. The baking time may need adjusted if you are using a metal bundt pan.
2020 Update: I successfully made this recipe with sorghum flour in place of the quinoa. However, I did find it to be a little dry. The next time I make this recipe, I will keep the sorghum in place of the quinoa, increase the extra virgin olive oil to 3/4 cup, and nix the 1/4 cup of coconut milk.
Thanks for reading! Enter your email to send new articles directly to your inbox: