muffin meets pear, and they dance in warm autumn spices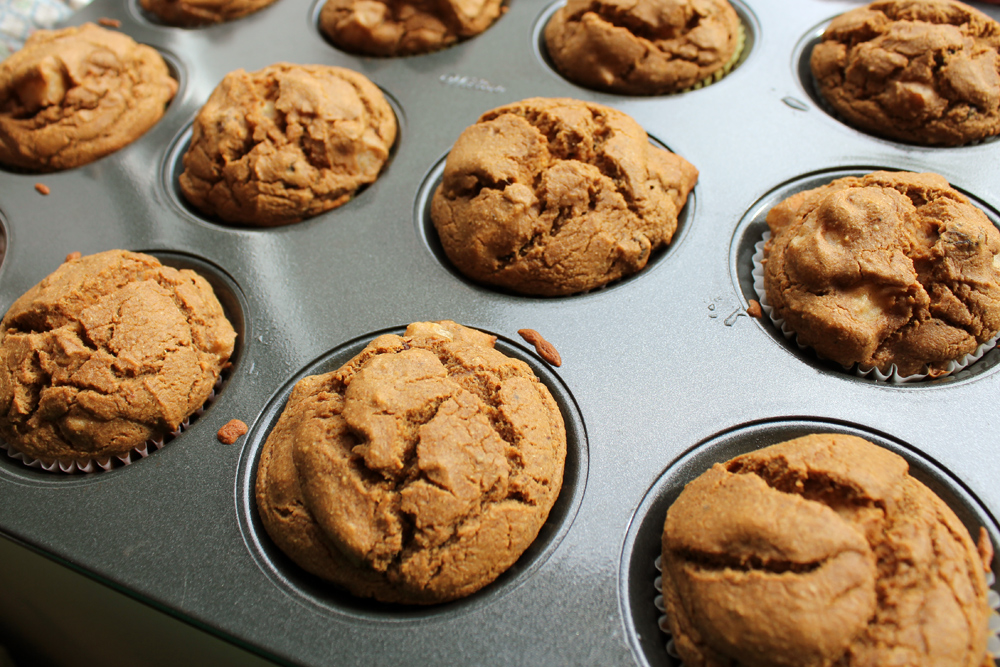 Have you tried my Pear Walnut Spice Cake yet?  I made them into muffins just last week, and they are gluten free, dairy free, soy free, corn free, tapioca free, and sugar free deliciousness!  Hmm, what else are they free of?  I could think of more…
I have to be honest with you and tell you that most of my baked goods are very different from the norm.  They are alternative.  So you can't expect to be biting into something that tastes like you bought it from the sugar coffee palace.
But, if there was an archerfriendly stevia coffee palace, these would be found there.  And I would buy them to accompany my stevia sweetened latte (did I just say latte?  Of course, I splurge on my drinks sometimes, but I do watch them).  These muffins are plenty sweet to me, and just dandy to pair with a cup of joe (joe that you don't drink every day, though).  They do not have stevia in them, but the stevia coffee palace would use as little sweetener as possible, with most things being sweetened with stevia.  That's how archerfriendly rolls.
When you don't eat sugar, your taste buds adapt.  Try avoiding sugar and all sweeteners for a few months, and then go eat something sweet.  Feels like liquid lollipop is drowning out the mucosal cells in the throat.  Maybe you didn't understand that.  But know that it just feels really funny.  You should try it.
Anyways, because I don't eat sugar, well, I try not to, things that aren't so sweet to the average Starbucks souped-up latte drinker taste super sweet to me.  Most of the things I make don't get the luxury of being sweetened, but these muffins got some of that sugar love with 2 whopping tablespoons of molasses!  So try them!
(I updated my Pear Walnut Spice Cake recipe with the scoop on how to make them as muffins.)
Thanks for reading! Enter your email to send new articles directly to your inbox: