leeks and kohlrabi were made for each other in this creamy vegan soup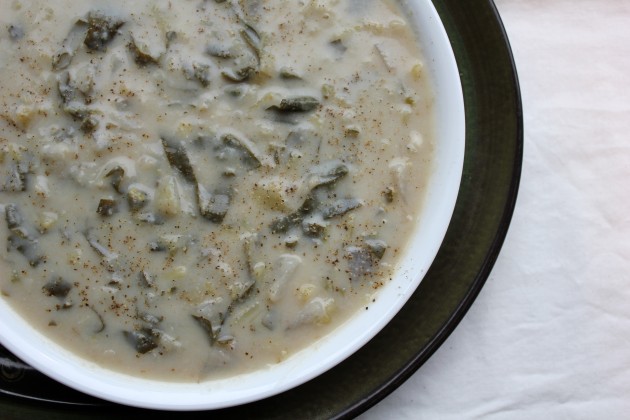 Eat this soup and detox for dinner.  Kohlrabi is a German turnip found in the cruciferous family.  Did I just say cruciferous?  Yes! You can eat this soup to eat cruciferously.  There are also (hidden) beans in the soup, a great source of fiber.  Double detox factors!
I have friends that are really into kohlrabi (yes, my friends just dig cruciferous vegetables!).  Last fall, they served us a dish made with kohlrabi.  Unfortunately, I couldn't eat it since it had butter in it, but I was curious about this vegetable they raved so much about.  Especially because it was the first time I heard of it.  When I recently saw bunches of kohlrabi at my local grocery store, I knew I had to try the stuff.
The greens are delicate and sweet,  the stems taste like broccoli, and the root is one-of-a-kind.  The texture of the cooked leaves is ideal – they remind me of a cross between kale and swiss chard.  They do not have that tough roughage factor like kale has when it is cooked.  Who would have known that just a single plant could offer so much variety of taste and texture?  After enjoying kohlrabi plain in all its elements, I knew this veggie would be ideal for a soup.
Although this soup is vegan, the creamy is creamy.  The creamy comes from coconut milk and pureed, soaked white beans.  Using the white beans for the "cream" part of the soup provided the texture, taste, and thickness I was looking for.  It tastes like there is real cream in it.  I think I've found the way to make "creamy" vegan soups… I was very impressed with how this turned out, and so was my meat-eating-bean-hating husband.
The beans also add protein to the soup, making it suitable to be used as a meal by itself.  The protein helps to balance blood sugar.  I usually can not eat vegan soups without protein, due to the negative effects they have on my blood sugar.  I've been thinking of sneaky ways to incorporate more protein into my vegetarian meals, and this is one of them.
With very few ingredients, this vegan soup is easy and bursting with flavor.
Creamy Kohlrabi and Leek Soup

Ingredients

4 cups vegetable broth

1.5 cups white navy beans, soaked overnight (measure after beans are soaked; ~ 3/4 cup dry) 

1 can full fat coconut milk

2 leeks

1 clove garlic

1 bunch of kohlrabi (~ 3 kohlrabi whole plants)

1 tsp salt

black pepper, to taste

Makes about a 5 quart pot

Puree soaked white navy beans with vegetable broth.  Pour mixture into a 5 quart pot and add the coconut milk.  

Cook on medium-low heat while you chop the leeks & garlic, stirring occasionally (the beans like to stick).  If the soup starts to boil, decrease heat.
Add leeks & garlic.
Cut kohlrabi leaves off the kohlrabi root & wash.  De-stem leaves by holding onto the base of the stem.  Briskly remove the leaves by pulling them off the stem from the base to the top of the leaf.
Thinly slice the stems and add to soup.  Don't forget to stir!
Tightly roll the leaves and thinly slice them into ribbons.  Keep them long or halve them.  Add to soup.
Add salt and black pepper.
Cook soup on low for about 45 minutes.  During this time, dice kohlrabi root into cubes.
Add kohlrabi root cubes and cook another 30-45 minutes.

Notes

This soup took me about 2 hours to make, from start to finish.  I cook the soup while I chop the next vegetable.  I add the vegetables at different times for optimal vegetable textures, and that is how I present it to you.  I do not like mushy kohlrabi.
If you don't care about vegetable textures, you could just throw everything in at once.  Or to save time, you can add the kohlrabi root cubes when you add the leaves.
The white beans want to stick to the bottom of the pan, so you really do have to man this soup by stirring frequently.
Thanks for reading! Enter your email to send new articles directly to your inbox: