A super healthy, allergyfriendly version of the classic roll out cookie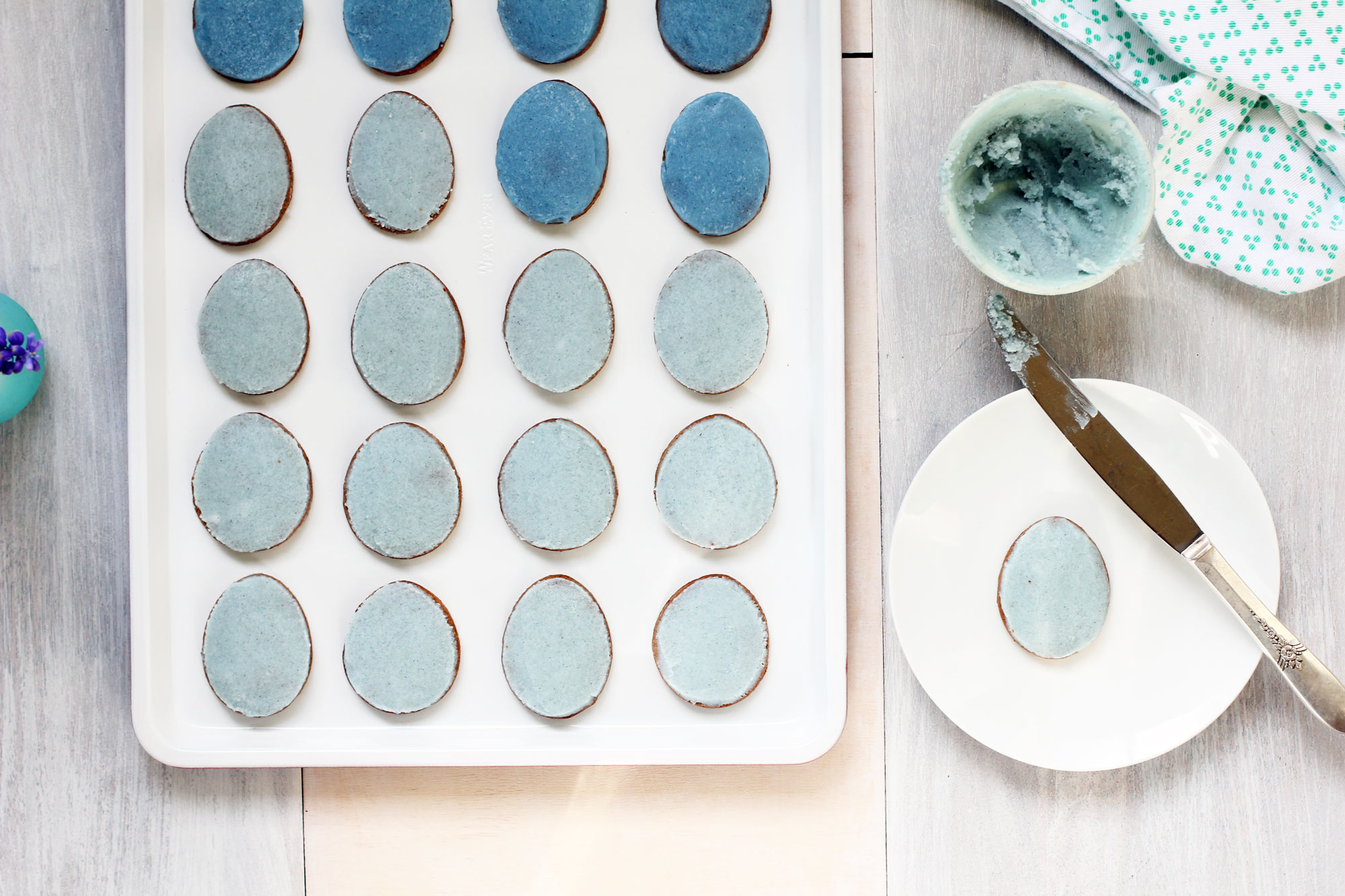 Growing up, my (ex-step) Grandma Ruth made sugar cookie roll outs for almost every holiday. Most of the time, they were plain and frosting-less. I always thought that was the boring way to go, but now that I'm grown, I give her mad props for that, because less sugar is a huge win. Although there was certainly a decent amount of sugar in the cookie.
I already have a sugarless sugar cookie recipe up on the blog, but I found them to be a little too fragile. Sorry if you made them. I developed a new recipe using buckwheat, which I find holds together much better than the oat flour I originally used.
I have been using this updated recipe here for the past two Christmases, and I decided to whip up some Easter cookies to use up the leftover frosting from my daughter's birthday cake I made over the weekend. I have to say — Easter cookies especially remind me of Grandma Ruth. Because she always gave us a whole bunch of frosting-less bunny cookies for Easter (with a metallic silver edible "eyeball"). It is a sweet thing to think of her. She's still living, although not doing well. I have two different pictures of her up on my Instagram feed if you want to see what she looks like. Here's a link to one of them.
I love this recipe because there is zero sugar in it. ZERO. It is sweetened with 20 dried apricots. THAT IS IT. I didn't even put stevia in this. Aren't you proud? I feel like I deserve 100 extra points for not putting stevia in something, being that I put it in everything.
The cookies do kind of become bubbly on top during the baking process, which certainly bothers my OCD problems, but the texture and taste is perfect. Maybe I need to back off on the cream of tarter? I don't know. What matters most is that the Wendy's Eating Husband thinks they're good! (but he is not a fan of the coconut oil based frosting you see in the pics)
Like I said, I frosted these with leftover frosting from my daughter's birthday cake. The frosting is mainly made of coconut oil, white beans, and powdered sugar. I'm not a fan of sugar, obviously, but for birthday cakes where we are serving normal eating guests, I am A-OK with using it. I don't think second graders will go for a coconut oil frosted cake that is sweetened with stevia only (ha, my kids wouldn't go for that either).
You can use any frosting you'd like for these. I do have to say that I am getting a tiny bit tired of coconut oil based frosting, since I've been eating it for 8 years now. I'm ready to start making a butter based frosting yesterday. So, you may see some butter around here. Need a break from that coconut oil taste.
Sugar Free Buckwheat Cutouts

Ingredients

20 organic dried Turkish apricots
1/2 cup boiling water

3 cups hulled raw buckwheat flour (use buckwheat without the hull) + extra for rolling
1/4 cup ground flax seeds
1 teaspoon baking soda
1 teaspoon cream of tarter
pinch salt

1 cup virgin coconut oil
2 teaspoons vanilla
1/2 teaspoon organic almond extract

Makes about 70 small cookies

Pour 1/2 cup boiling water on dried apricots. Let soak.
Line baking sheets with parchment paper. Preheat oven to 350° F.
In a mixing bowl, thoroughly mix the buckwheat flour, ground flax seeds, baking soda, cream of tartar, and salt.
Place the coconut oil in a food processor. Whip for 2-3 minutes. Next add the apricots with all of the soaking water, the vanilla, and the almond extract. Blend well.
Pour the wet ingredients from the food processor into the mixing bowl with the flour mixture. Stir well.
Refrigerate for about 1 hour to firm up the dough. While dough is chilling, prepare rolling surface with parchment paper. Have extra buckwheat flour available for rolling. Split dough in quarters, working dough with your hands to soften. The temperature of your hands will help to make the dough pliable. Roll dough to about 1/4 inch thickness. Use flour on rolling pin to help prevent sticking.
Cut out shapes and carefully place on baking pan.
Bake for 12 to 15 minutes, depending on size. Smaller cookies will need closer to 12 minutes. Larger cookies may need closer to 15 minutes.
Thanks for reading! Enter your email to send new articles directly to your inbox: