my mom, my love of questions, and my lunch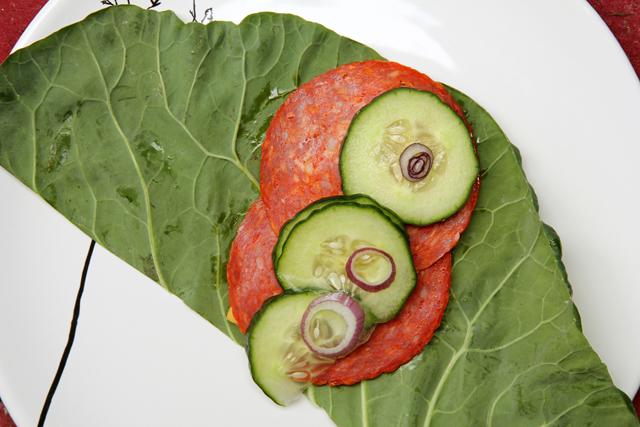 My mom and step-dad divorced during my junior year in high school.  Afterwards, my mom started dating some very interesting men.  She (sometimes) brought her manfriends home for my sisters and I to meet, which was preceded by very specific instructions of what not to ask.  Those instructions were directed to me and not my sisters, since I was the child who asked every visitor endless questions without reserve.  Religious topics were off limits. Sorry Mom, but Kevin with the frizzy mullet totally failed my Jesus quiz.
As a child, everyone told me I would grow up to be a reporter.  As an adult, I ask a lot of questions that can be interpreted as intrusive and nosy.  I like to call it the gift of curiosity, and I'm jonesin' to know about your lunch today.
I'll be eating de-stemmed collard green leaves with all natural pepperoni, Tillamook extra sharp cheddar cheese, organic cucumber slices, and purple onions.  The cheese is barely peeking out in the picture, but I'm not trying to hide it, even though I'm not really supposed to be eating it.  This wrap is an easy spin-off of my Gobble Up Collard Roll Ups, and was made with the specific intention of changing things up a bit.  A quick way to set yourself up for a food intolerance is to eat the same thing for lunch every day of every week.  With such limited dietary selections, I can very easily fall into that pattern.
So here's my lunch advice for today: switch it up!  If you normally eat peanut butter and jelly sandwiches, swap out some almond butter for the PB.  If you normally use whole wheat bread for your chicken sandwich, try whole grain spelt bread instead, or even more daring, try a gluten-free option.  Instead of using your beloved cheese slice, try thinly sliced avocado.  I would love to use avocado in this way for my collard roll up today, but they are on my current food reaction list.
What did you eat for lunch today, or if you have already eaten it, what did you eat?  How do you switch up the food in your lunches?
Thanks for reading! Enter your email to send new articles directly to your inbox: