two cruciferous veggies oven-infused with modern Indian flavors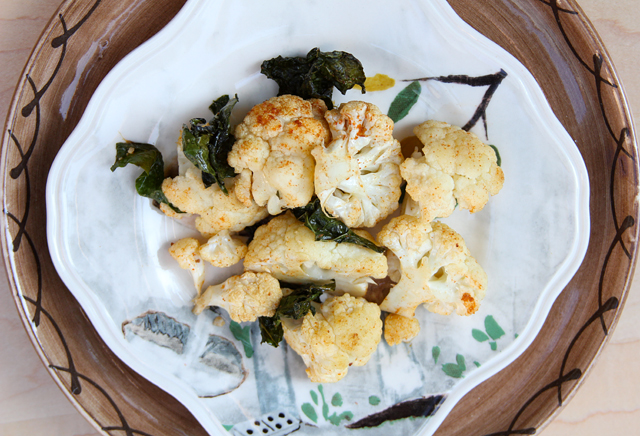 I'm food-grieving right now.  My tolerance for carbohydrates has plunged.  I don't tolerate carbohydrates well because of a condition I have called reactive hypoglycemia.  I recently got further testing done to find the cause of the reactive hypoglycemia (because that's what naturopaths do — find the cause):  insulin resistance.  Yes, I have insulin resistance and I'm not happy about it.
I have had to cut my carbohydrate intake wayyyyy down.  More down than I would like.  I haven't eliminated carbs 100%, but I'm being really persnickety about the ones I do eat and how much of them I eat.  It's not fun and I do not like it.
I would love to eat an appetizer sized plate of my curry root fries, because they are my fav.  But if I ate that many, I'd max out my carbohydrate allottance for the day.  Because of their starchy carb content, they are not an ideal a-f snack right now.  Bummer.
Out of my missing carbohydrates lamentation, I have found solace in eating a new snack: metro curry roasted cauliflower and kale.  There's no bothering of blood sugar with these ingredients.  It reminds me of a fun appetizer at a restaurant (like the curry root fries did), one that I actually enjoy and LOVE.  It's not identical to the curry root fries, it's a different dish, on purpose, but the flavors are still amazing.  It brings me beloved joy to make and eat something that's friendly for my allergies and friendly for my blood sugar, with no compromise in the taste bud department.
This dish makes me happy in all kinds of ways: the smokey smell of roasted cabbage vegetables with urban Indian flavors, the glass-like yet chewy crunch of the sizzled dino kale, the meaty bites of the spiced cauliflower, the color contrast of the dark dino kale with the farm egg shell colored cauliflower, all married together with vibrant metro curry seasoning.
You can serve this dish as an appetizer, side dish, or snack.  If you are going for snazzy, serve it up with a spicy jalepeno cilantro aioli (for dipping).  If you are allergic to eggs (like I am right now), work in some tahini  instead.  This also tastes excellent with some cremini mushrooms tossed in, and goes great wrapped in foil on the grill.
Metro Curry Roasted Cauliflower & Kale

Ingredients

1 head of cauliflower, rinsed
4-5 leaves of lancinato kale
extra virgin olive oil or virgin coconut oil
salt

Makes 1 full 3 quart glass baking dish

Preheat oven to 400°F.
Cut cauliflower into florets.  De-stem kale and cut into 2-3 inch long chunks.
Place veggies in a 3 quart glass baking dish.
Drizzle olive oil or coconut oil over the veggies.
Spinkle a liberal amount of metro curry seasoning over the veggies.  You be the judge!
With your hands, gently toss the veggies together to evenly spread the oil and seasoning.
Bake for 25 – 30 minutes.
Thanks for reading! Enter your email to send new articles directly to your inbox: