If healthy pound cake is a thing, this is it
This is my best version of an archerfriendly pound cake, without using any of the ingredients that make a pound cake a pound cake. Traditional pound cake contains a pound of flour, butter, eggs, and sugar. There is none of that in this cake. It is gluten free, egg free, dairy free, and white sugar free. It would be vegan if it weren't for the honey. Can I even call this thing a pound cake!?
The pound cake itself is sugar free. Although I do sprinkle coconut sugar on the top of the orange slices, right before the cake goes into the oven. This helps to brown and sweeten the oranges, but it is not necessary if you'd like it to stay strictly sugar free. As you may know already, I try to make things as minimally sweetened as possible. The cake itself is sweetened with 2 whole Tablespoons of honey, a pureed blood orange (with the peel), and stevia. That is it! If you are not quite accustomed to the unsweetened life, you may want to use a tad more sweetener. Although be careful with using more of a liquid sweetener, as that could throw off the liquid ratios.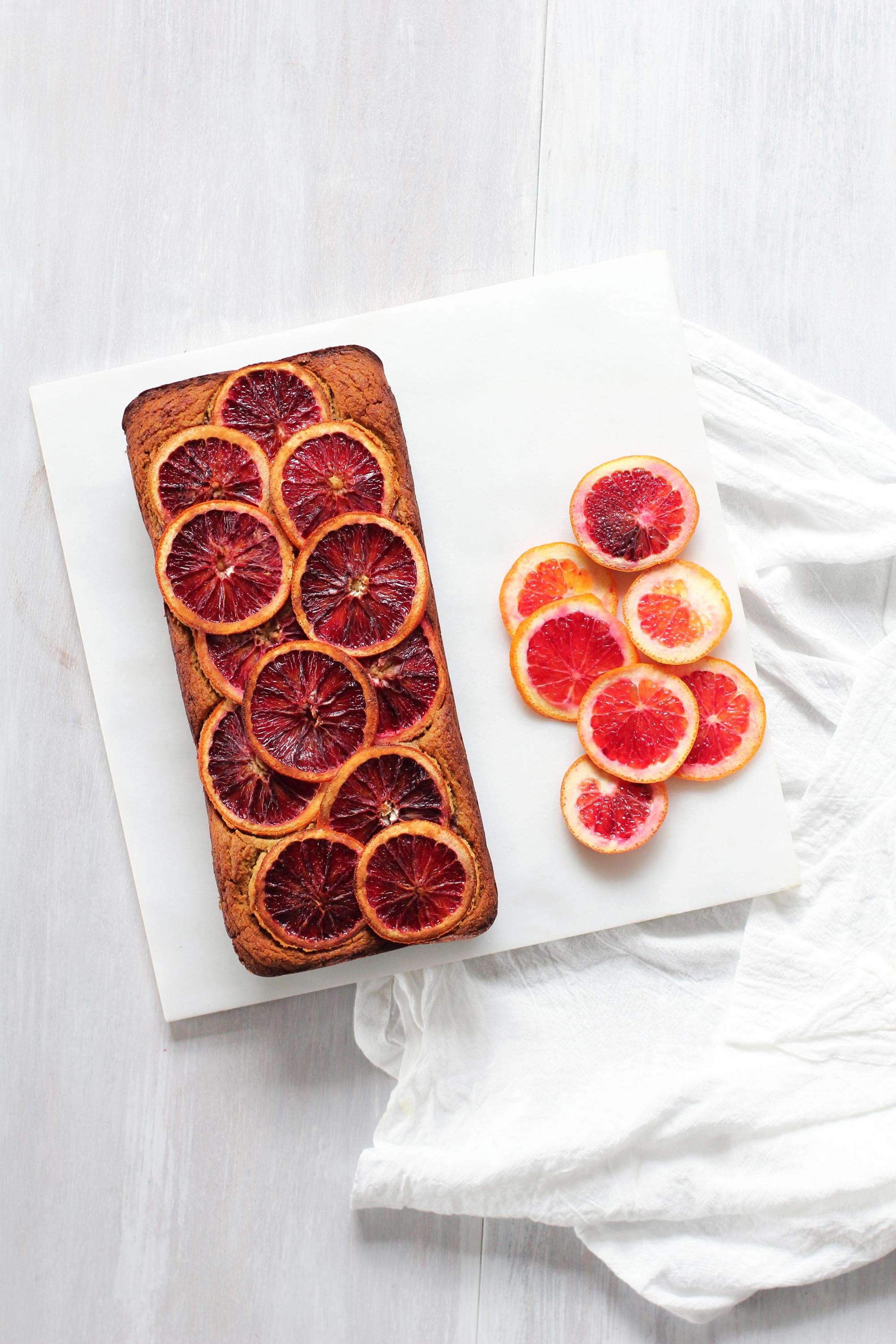 I love this recipe because it's a tasty way to get some orange peels in your belly. The orange peel is where it's at! There are so many antioxidant compounds in the peel, and most people are throwing them away! Orange peels are a super food, and I'm not even exaggerating that.
I've been experimenting a bit with yellow pea flour, which I grind from dried yellow peas in my dry Vitamix container. In this recipe, the yellow pea flour is soaked overnight. It turns into a blob in the morning, which is why it gets pureed in a food processor with the rest of the wet ingredients. I have found that soaking the yellow pea flour overnight results in less GI discomfort if you know what I mean.
The cake bakes at 350° F for an hour and 15-20 minutes. This baking time can vary depending on how you layer the blood oranges on top. If they are sliced too thickly or double layered, the baking time may need adjusted. If you choose to do a super thin, single layer of orange slices, you may need less baking time. Make sure the top bounces a little bit and a knife comes out clean.
This blood orange pound cake is best eaten warm, fresh out of the oven, on the day that it is made. I'm stating the obvious though, aren't I? When the cake is warm, it is more delicate and requires skill to cut it neatly. It cuts like a champ when it is cold, but it does not taste best when cold. Due to the high fat content provided by the coconut oil, it firms up quite a bit at colder temperatures. This can make it seem dry and dense, but it's not! It's so tender and soft when warm. If you eat leftovers after the fact, warm them up!
Now, onto the baking pan! We have a slight issue. The downside of collecting kitchen ware from random places is that you end up using unique bakeware that no one else has in their kitchen. That's what happened with this teal loaf pan you see in the picture. The color and shape of it caught my eye, and I had to buy it. It's from Grocery Outlet! Can you believe it? I bought it there a while ago, and they are no longer in store.
Did I save the packaging? No! Is there anything written on the pan? No! Do you have one in your kitchen? Probably not! I have no idea who makes it, so I can't even tell you how to get one. But I can tell you how to find a similar one… maybe. It only took me about 2 hours of searching on the internet to find some kind of solution.
The problem is that you'll need to find a similar sized pan if you want to try to bake this Blood Orange Ginger Yellow Pea Pound cake! The closest pan I have found to the size of the one I used for this recipe is a 1.5 pound loaf pan with the dimensions around 10″ x 5″ x 3″ high. Check out this one from Williams Sonoma. The pan I used was about 10″ x 5″ x 2.5 " high, measured from the inside bottom-ish.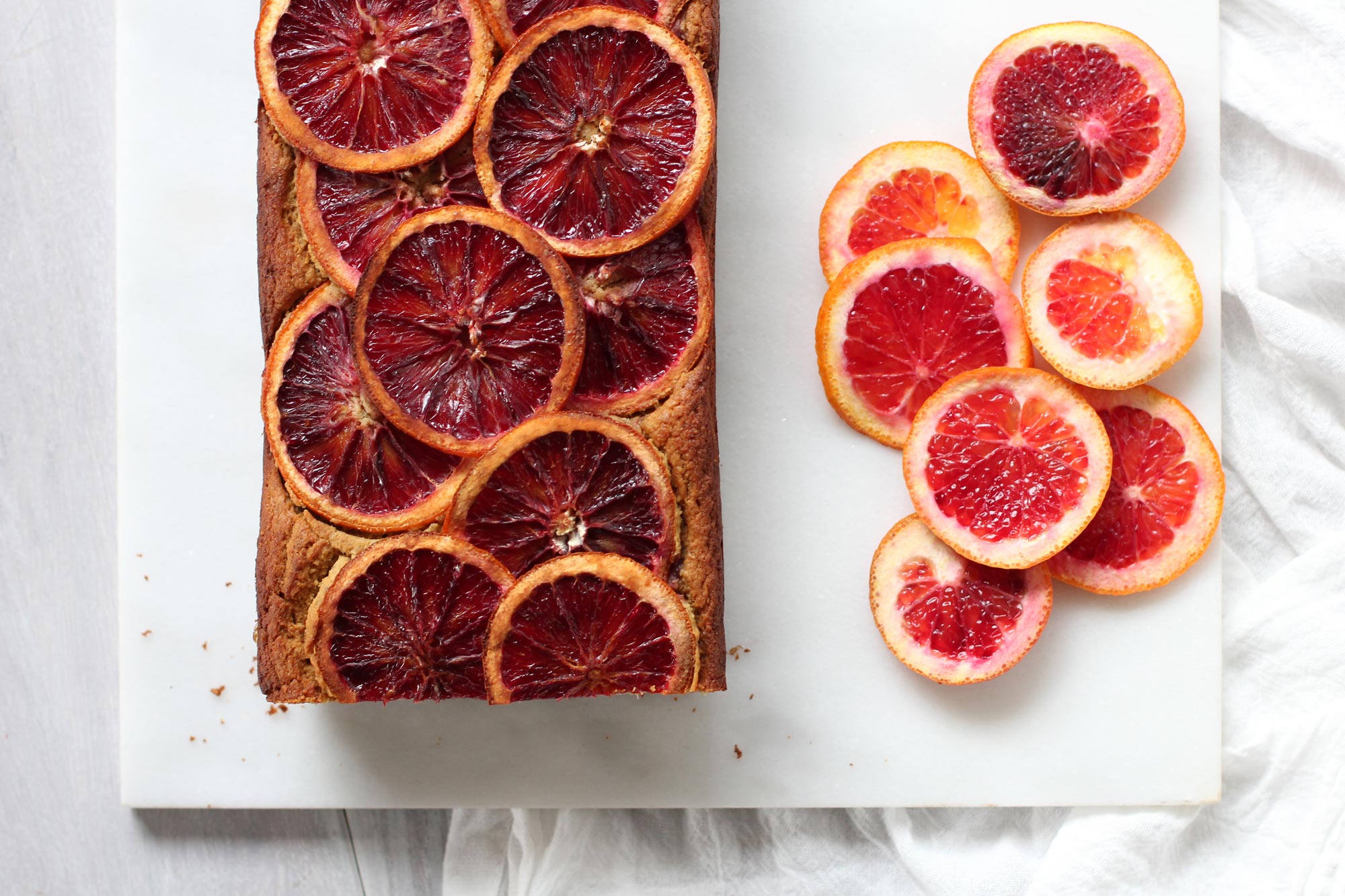 Or instead of finding a similar sized pan, you can try to accommodate the situation by using your regular sized loaf pan and put the extra batter in another baking container. If you use your regularly sized loaf pan, leave at least an inch of space at the top.
I hope you love this as much as I do. I can't buy something like this anywhere! If I had an archerfriendly cafe, this would certainly be in it over the winter months.
Blood Orange Ginger Yellow Pea Pound Cake

Ingredients

2 cups yellow pea flour, sifted
1/2 cup filtered water
3 blood oranges
1 cup brown rice flour
1/4 cup ground flax seeds
2 Tablespoons coconut flour
1 teaspoon baking soda
1/4 teaspoon baking powder
1/4 teaspoon salt
1/4 teaspoon stevia (powdered)
1 cup unrefined virgin coconut oil
1 cup full fat coconut milk
2 Tablespoons honey
1 Tablespoon vanilla extract
1 Tablespoon lemon juice
piece of ginger root (only need about 1/2 inch of it)
pinch of coconut sugar

You will need a 

1.5 pound loaf pan with dimensions around 10″ x 5″ x 3″ high
(this size is larger than the typical loaf pan in the US; more info below)

The Night Before Making the Cake:

In a Vitamix, puree 1 blood orange, with the peel. Pour the puree in a liquid measuring cup until you have 3/4 cup of puree. Discard the rest of the puree (or drink it!).
Place the 2 cups of yellow pea flour in a large mixing bowl with the 1/2 cup filtered water and 3/4 cup of blood orange puree. Stir well.
Store mixture in the fridge overnight.

Day of Making the Cake:

First pull the yellow pea mixture out of the fridge to bring it to room temperature while you work on everything else.
Preheat oven to 350° F.
Grease an extra large loaf pan (or line it with parchment paper). The loaf pan used for this recipe was very close in size to a 1.5 pound loaf pan with the dimensions of 10″ x 5″ x 3″ high (except the one used for the recipe was closer to 2.5″ high). Here is one that is similar at Williams Sonoma (make sure to click the 1.5 pound option).
Mix dry ingredients together in another mixing bowl — the brown rice flour, ground flax seeds, coconut flour, baking soda, baking powder, salt, and stevia.
In a large food processor, blend the following together: yellow pea mixture from overnight, 1 cup coconut oil, 2 Tablespoons honey, 1 Tablespoon vanilla, 1 Tablespoon lemon juice, and 1 cup coconut milk. If all of these ingredients do not fit in your food processor, puree it in batches.
Pour the wet mixture back into the mixing bowl that contained the yellow pea mixture from overnight. Grate about 1/2 inch of the fresh ginger root into the bowl (you need a larger piece so that you can hold it properly to grate enough into the bowl). Thoroughly incorporate the ginger into the wet ingredients.
Slice two blood oranges as thinly as possible. Get them ready to place on top of the batter.
Empty the contents of the dry ingredient mixture into the wet ingredients. Stir well, but don't over stir!
Pour batter into the prepped baking pan. Ensure to save about an inch of space at the top of the pan.
Carefully layer the orange slices on the top of the batter, being mindful of double layering. If the orange slices are layered too thickly, it may take longer for the cake to bake and/or may not bake all the way through at the top of the cake.
Sprinkle a dusting of coconut sugar on top of the oranges.
Bake at 350 F for 1 hour and 15-20 minutes or until a knife comes out clean and the top bounces a little bit. Baking time may need adjusted depending on thickness of orange slices and layering.
Serve warm. Do not recommend serving or eating it cold. (although it does cut nicely when cold)
Thanks for reading! Enter your email to send new articles directly to your inbox: