infused with fresh ginger, saigon cinnamon, and creamy coconut milk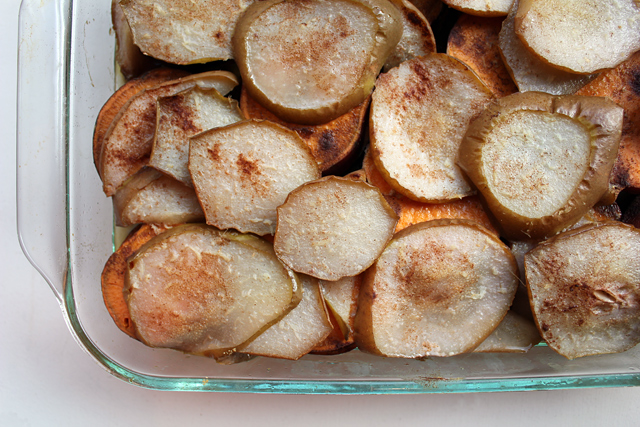 You don't have to limit sharing this dish with your hippie food friends that only eat natural, sugar free foods.  Nooo!  You can make it for a potluck at your Sunday morning donut-serving church.  You can make it for your in-laws that own a bagel shop.  You can make it for your Gram that lives in the boondocks.  All of them, the fast food junkers and even the candied corn syrup yams-in-a-can people, they will like this!
No need to be shy about your health food.  It's ok to come out of the closet with your cooking.  Bring what you eat to the potluck.  Don't just make what everyone wants you to make!  Your tasty health food might convert someone, you know.  (Totally giving myself a pep talk here…)
Last Easter, I made this dish for an Easter dinner with my friends.  It was a last minute recipe combo with ingredients I had on hand.  My friends at this dinner, they eat normal, but they are always eager to try my experiments.  I didn't think I'd get such a response as I did.  They loved it.  The Normal Eaters!  It even had stevia in it.
I have made this recipe since then (because it is so delicious), but I have been holding myself back from sharing it with you until now.  Consider this post a virtual Easter egg and the recipe as your egg prize.
Sorry.  That's weird.  Virtual a-f Easter eggs?   I wonder what they would look like.  All easter eggy weirdness aside, you can still receive this recipe as my Easter present to you.  I've saved it, special, just to share it with you at this time.
Because of the holiday, my local grocer has yams AND (organic) pears on sale this week.  I hope yours does too, since you're going to make this for dinner on April 8, 2011.
One of the spices in this recipe is the herb of the month for April!  Can you guess?
Sliced, Layered, & Roasted Yams n' Pears

Ingredients

4 yams, cut in discs (with skin) ~ 1 cm thick
4 small pears or 3 large pears, sliced length-wise, top to bottom (with skin)
1 cup full fat coconut milk
4 drops liquid stevia
1/2 Tablespoon maple syrup
1/4 to 1/3 piece of a thumb-sized piece of fresh ginger, grated
1/4 tsp saigon cinnamon + a lil' more for garnish
1/4 tsp sea salt

Makes a full 3 quart glass baking dish

Preheat oven to 400°F.
Mix coconut milk, stevia, maple syrup, and fresh grated ginger.  Set aside.
Mix saigon cinnamon and sea salt together in a spunky shot glass.  This will be used to sprinkle on the layers.
Cover bottom of glass baking dish with 1 layer of yam discs.  Use a pastry brush to dip and spread the coconut milk mixture on top of yams, conservatively.  Sprinkle salt & cinnamon mixture from your spunky shot glass on top of the coconut milk covered yams.
Repeat with another layer of yams until yams are all gone.
Top with sliced pears.  Pour remaining coconut milk mixture over the pears.
Garnish with remaining cinnamon and salt.
Cover with aluminum foil & bake for 55 minutes.
Remove foil & bake for 5 more minutes.
Thanks for reading! Enter your email to send new articles directly to your inbox: