coconut milk cuddles marionberries on a popsicle stick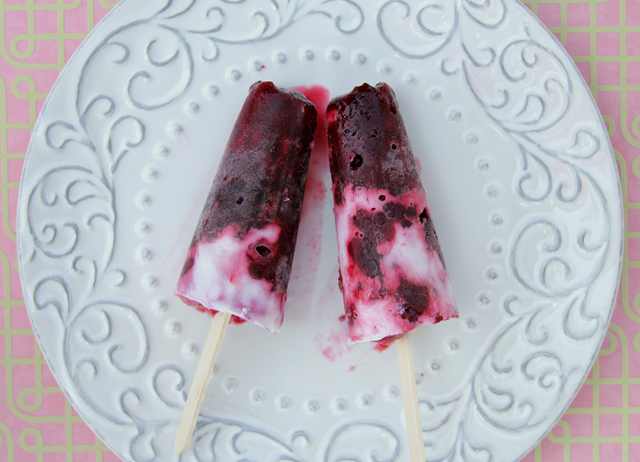 Berry picking brings out the greed in me.  When I go berry picking, I like to arrive a few minutes before the farm opens.  This is to avoid the crowds and crowds of people that I assume will be showing up to steal all my berries.  In the berry bushes, I must get every single ripe berry out of fear that if I don't get it, they will, and I don't want them to have it.  My berries!  Once my basket is full, it is difficult to leave the ripe berries behind, and I feel at a loss, as if 10 pounds of berries is not enough.  My berry hunger is insatiable!
Bringing my kids with me to the berry picking fields has hindered my berry picking lust, so much so, that it is now difficult to arrive right when the fields open.  With my kids, it is almost impossible to arrive earlier than 30 minutes past the opening time.  Arriving this late means that I am not the first one there.  This surely triggers my fear that "they" are going to pick all the berries.  I can't seem to stop myself from giving the secret stink eye to everyone in the parking lot that got there before me.  My real desire is that they would go home so that I could have the berry fields all to myself.
I've turned some of my greedy little marionberries into an incredible popsicle recipe.  I've stink eyed lots of people to get these berries to make this recipe to share it with you!
This treat is a frozen gem!  Marionberries are oven roasted in a tad of lemon juice.  The roasting brings out their flavor. They are then lightly smashed with a fork and placed in a popsicle holder.  Creamy vanilla blasted coconut milk is poured over top of the smashed delicacies, and the treat is frozen overnight.  A little tart, due to the marionberry, to remind you that greed leaves a sour taste in the mouth, but when you acknowledge your waywardness, there's forgiving coconut milk and stevia to wash over your tongue.
Popsicle molds vary, which makes an exact recipe difficult.  Currently, my molds are the toxic plastic version from the dollar store.  If you have leftover roasted marionberries that did not fit in your popsicle molds, enjoy a mini marionberry dessert drizzled with coconut milk .
Greedy Little Roasted & Smashed Marionberry Popsicles

Ingredients

3 heaping cups marionberries
1/2 Tablespoon lemon juice
a few taps of powdered stevia
a pea sized amount of honey for each popsicle mold
1/2 – 3/4 cup full fat coconut milk
1 teaspoon vanilla
liquid stevia (to taste)

Makes ~ 8 smaller popsicles

Preheat oven to 360°F.
Gently toss marionberries, lemon juice, and a few taps of powered stevia.
Roast marionberry mixture in a glass baking dish at 360°F for about 25 minutes.
Once cooled, lightly smash berries with a fork.  They should still maintain some shape.
Spoon berries into popsicle molds, filling about 75%.
Drop about a pea size amount of honey over the berries in each popsicle mold.
Lightly whisk coconut milk with vanilla and liquid stevia.  Taste the mixture for desired sweetness.
Pour coconut milk mixture over the smashed berries in each of the molds.
Insert popsicle sticks after pouring.  Freeze overnight.
Thanks for reading! Enter your email to send new articles directly to your inbox: