a new & healthy way to eat your PB&J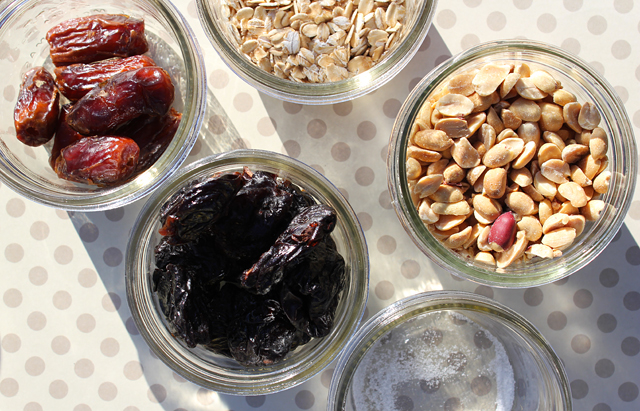 When I packed my school lunch, I was only allowed to have one Tastykake Strawberry Krimpet, instead of the two that came in the package.  The same rule applied to the Swiss Rolls. The un-used one would go in the freezer in a baggie for "tomorrow's lunch", but it was usually consumed by after school hunger when my mom wasn't around.
In addition to my daily lunch box artery-clogging-diabetogenic Tastykake treat, I would usually pack a PB&J as my main meal.  I thought this was healthy, since we made our PB&Js the hippie way.  We used natural Smucker's peanut butter on whole grain bread only.
With all that I know now, peanut butter and jelly sandwiches are not the ideal "health" food to give your kid for lunch every day (sorry mom!).  A peanut butter and jelly sandwich should be used as a main lunch course on occasion, or used as a dessert once all the fruit and veggies have been consumed.  If your kid thinks it's weird to eat a PB&J with natural peanut butter and whole grain bread as a dessert, then switch things up and make these peanut butter and jelly bars.
They are sweeter than I prefer, since I had some congealing issues when I was skimpy on the dried fruit.  The dried plums give a rich jelly taste to the bars, and they add a bunch of fiber.  That's something Gushers (a typical American lunch box snack) can't offer:  fiber!
These bars have a more balanced protein to carbohydrate ratio in comparison to an actual peanut butter and jelly sandwich.  They are also far less processed, making them a more blood sugar friendly treat.
Back to School Peanut Butter & Jelly Bars

Ingredients

1 cup roasted organic peanuts
1/4 cup thick rolled oats (certified gluten-free if necessary)
~ 35 organic, pitted prunes
8 deglet noor dates
pinch sea salt
a little organic virgin coconut oil for your hands

Makes ~ twelve 2×2.5 inch bars

Line an 8×8 glass baking dish with a piece of parchment paper.
Roughly chop prunes & dates.
Place all ingredients in a food processor.
Process ingredients until peanuts are uniform in size and the mixture begins to ball.
Grease your hands with the coconut oil.
Press mixture into the 8×8 glass baking dish, making sure to keep the thickness even.
Cut & serve!
Thanks for reading! Enter your email to send new articles directly to your inbox: