white beans and coconut oil make a vegan Indian sweet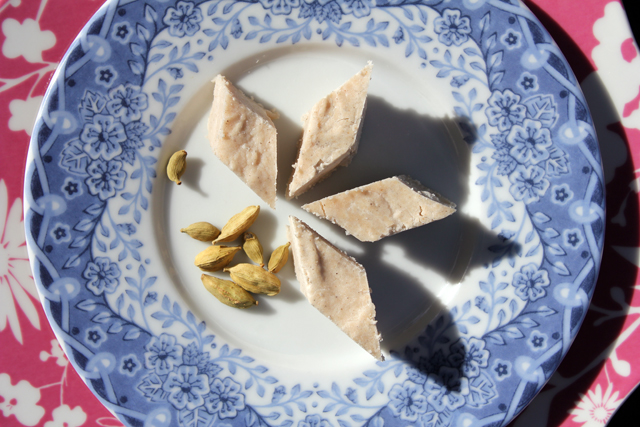 About two months ago, I did a terrible deed.  My husband and I were at a house inspection over his lunch break from work.  I did not pack him an archerfriendly lunch with cardamom coconut burfee for dessert.  He was very, very hungry, and we were both pressed for time.  After we left the inspection, I was asked to drive him through a Wendy's drive-thru.  Unfortunately, I consented.
When the lady asked for my order, I could barely make out the words under my laughter.  "What's the healthiest thing on your menu?"  Her answer was my revenge.
"A salad," she said.  Next up was the plain grilled chicken sandwich.  I knew my husband wouldn't fly for eating a salad in the car with a plastic fork, so the plain grilled chicken sandwich it was.
Because he had to endure the embarassment of having his naturopathic medical student of a wife giving the order, I appeased his humiliation with some highly requested fries (sigh).
Now you know where he's coming from when he says that my vegan cardamom burfee is gross. He eats Wendy's for lunch.  You will never find my cardamom coconut burfee on the Wendy's menu, although, if it was, I would most likely become a Wendy's drive-thru addict.
I put lentils in cookies, because I really shouldn't be eating cookies, but the lentils make it OK.  And now, I'm making burfee out of white beans and coconut oil.  Hah, and then I tell you it tastes good. You can believe me and my sugar free, blood sugar friendly, allergen purified taste buds, or you can believe my frosty loving husband.  I know who you really want to believe.
I eat this way, because I have to.  Most days, I'm OK with that.  But recently, I've been hating all the effort it takes for Archer's body to be healthy.  I want easy!  I want to eat food I don't have to make!
When I avoid the foods that bug my belly and when I eat in a way that keeps my blood sugar stable all day long, I feel amazing.  I really, really, do.  This hard work, it pays so well.
Maybe you are new to living without sweeteners.  Maybe you are new to living without gluten, dairy, and soy (and everything else you loved).  Maybe you feel lost and confused and desperate for something fun to eat with the little foods you have left.  This recipe is for you.
It is this desperation for variety, and fun, and festivity, that drives me to create something out of nothing.  I want to eat food that still enables me to celebrate, but that delivers health to my body at the same time.  I especially love that I can archerfriendly-ize Indian desserts such as burfee.
Burfee is a rich Indian sweet that is comparable to a milky fudge.  When you're working with normal person ingredients, it's loaded with dairy and sugar.  My version is dairy free, and sweetened with stevia and a spoonful of honey.  If you don't eat a lot of sugar, or you shouldn't, and you're cutting out the dairy, and you LOVE foreign sweets, you've got to try this a-f substitute.
You also have to say the word, "burfee", out loud.  For a while, my daughter kept calling it "barfee" because she could not pronounce it properly.  Doesn't it make you want to make it, so you can say, "Honey, I made you some burfee!"?
Cardamom Coconut Burfee (Vegan)

Ingredients

4.5 cups cooked white beans (no extra water)
2 cups organic virgin coconut oil
1/4 cup full fat coconut milk
1 Tablespoon vanilla extract
1 Tablespoon honey
1/8 teaspoon sea salt
1/4 teaspoon powdered stevia
1.5 Tablespoons freshly ground cardamom
handful of cardamom seeds for garnish (optional & not shown in picture)

Makes one 9 x 11 glass pan

Line the bottom of a glass 9 x 11 pan with parchment paper.
In a Vitamix or food processor, blend 2 cups of the white beans with 1 cup of the coconut oil.  Place mixture into a large sauce pan.
Next, blend the rest of the white beans (2.5 cups), the rest of the coconut oil (1 cup), the coconut milk, vanilla, honey, sea salt, stevia, and ground cardamom in your Vitamix or food processor.  The mixture is thick, so if you are using a Vitamix, you may need to use the tamper.
Place mixture into the sauce pan with the rest of the previously mixed white beans and coconut oil.  Turn on very low heat, and stir well.  You might get a work-out here.
Keep on low heat for about 10-15 minutes, stirring frequently.
Transfer mixture to the 9 x 11 pan.  Spread the mixture evenly throughout the pan.
Optional & Not Shown in Picture:  Crush cardamom seeds in a mortar and pestle.  Sprinkle the freshly crushed seeds over the wet burfee.
Refridgerate overnight.
Thanks for reading! Enter your email to send new articles directly to your inbox: