you can write a new Christmas story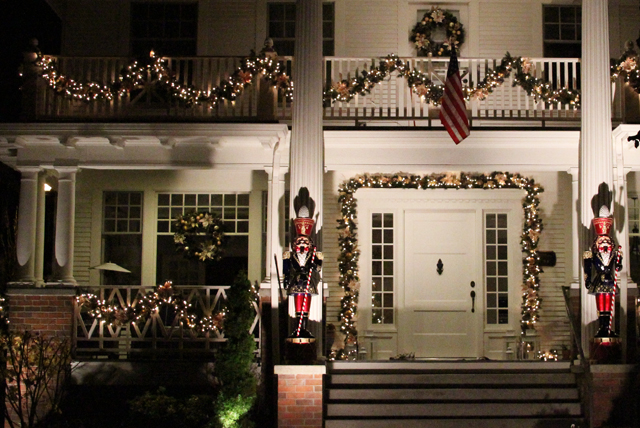 I had hope when my mom moved into the Coors Light Drinker's house, even though my little sister and I still lived at home.  I had hope when he threw all her stuff out his second floor bedroom window and she collected her belongings on the lawn in black garbage bags.  I had hope during an empty 18th birthday when my mom went to Roman Delight with him instead of blowing out candles with me.  I had hope when my sister told me of the bloody mess she mopped up after an artery was cut during a fight and he sat on the couch watching Jerry Springer.  I had hope every Christmas Eve when my mom tried so hard to have a normal family gathering but it never worked because there would be f words, too much Coors Lights, slamming doors, and cars angrily accelerating out of the driveway.  Eleven years of hope and hoping and hoping some more for my mom to say no to this man once and for all.
The dark of the night, romanced by the blue Christmas lights from the tree and sleeping babies in their beds, gripped me with an intoxicating sorrow from all the eleven years of hopes never happening.  The hope I retained for all those years seemed so ludicrous and juvenile for believing that things could change.  This was last year, 2011, two days shy of Christmas, and I could not hope any more.
There's something about the holidays that pokes on years past.  I was on my way to bed, up late with Christmas tasks for my family, when I bent over the brown ottoman at the end of my bed, weeping for all the good hope that turned sour.  Sour hopes rot into dead hope, and I had too much of it living in my heart.
Holding onto dead hope is a form of self inflicted soul torture.  Mine came in the form of picturing what life would have looked like had all my good hopes came true.  The past will never change, even though it changes us.  Hoping for a different past is dead hope because the hope will never be fulfilled.
The hardest dead hope to discharge from my heart was my wishing she never met him.  But she did meet him.  He was around for 11 years.  I had to stop picturing how my mom would be today, had she never met this abusive man.  I had to stop trying to picture what Christmas would have looked like, without f words, too much Coors lights, slamming doors, and cars angrily accelerating out of the driveway.  That was the dead hope in all its glory and it wasn't doing me any good.
It would have been too hard to release all the dead hope if there wasn't any kind of invitation for another hope.  The call for a new hope came in the form of two baby girls breathing life in the next room over, with the younger about to see her first Christmas.  All my dreams for a better story could really come to life again.  The dark story that happened on all Christmases prior didn't have to repeat again.  I could write a new story.
Where are you finding new hope this Christmas?
Thanks for reading! Enter your email to send new articles directly to your inbox: