my kids avoid gluten, dairy, soy, tree nuts, and more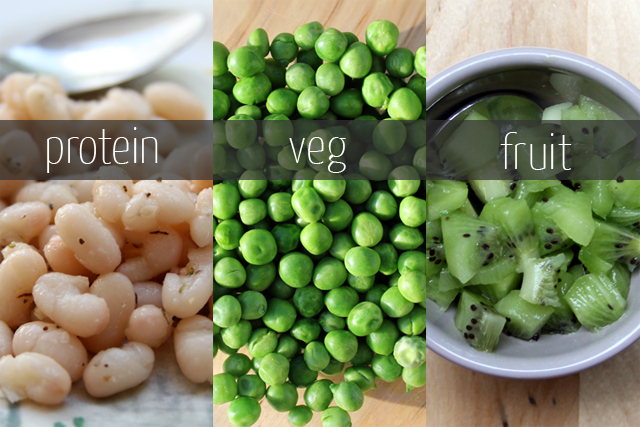 Both of my girls, ages 3 years and 17 months, can not have gluten, dairy, soy, tree nuts, sunflower seeds, sesame seeds, mangoes, oranges, grapefruit, and tapioca.  In addition to the former list, my 17 month old can not have eggs or hemp.  We limit corn products because of its allergenicity and low nutrient density.  We limit rice products to decrease their arsenic exposure.
Making lunch for them is not as tough as it seems.  The goal is a protein source, a vegetable, and a fruit.  When I think in terms of these staples, lunch options abound.
To dispel any kind of pediatric lunch piety, please note that Selah is enjoying some sugared up (but dairy free) raspberry sorbet in the picture above.
I'll also give you a window into my healthy eating OCD brain.  Sometimes I feel guilty that my kids eat "processed" all natural, non-organic turkey slices from Costco because the perfect archerfriendly mom makes a homemade meal for her little girls' lunch every single day.  When the "you're a terrible mom" voice turns on, I try to remind myself of both the reality and the truth.  The reality is that I am finishing naturopathic medical school and I don't have time to entertain perfect mom fantasies.  The truth is that I will never be a perfect mom that feeds her kids the perfect diet…but I can be a good mom that cashes in on the easy without selling out on the health.
Speaking of OCD, I need to whisper that Re'uth is 13 months in the picture below, but currently 17 months.  I'm sure your eyes caught the difference.
Most Popular Allergy Friendly Winter Lunch Options
| | | |
| --- | --- | --- |
| Protein | Vegetables | Fruits |
| all natural turkey slices | roasted red garnet yams | apples |
| chicken breast | frozen peas | frozen blueberries |
| ground beef | steamed broccoli | frozen blackberries |
| ground turkey | steamed cauliflower | kiwi |
| eggs* | steamed kale | bananas |
| lima beans | steamed spinach | plantains |
| white beans | microwaved lima beans | bosc pears |
| chickpeas | massaged kale salad | |
| black beans | steamed beets | |
| peanut butter* | raw carrots | |
| | raw snap peas | |
| | steamed snap peas | |
| | cherry tomatoes | |
| | cucumbers | |
*not for my 17 month old
Of course, all of the foods listed above are organic when possible.  We rotate between organic chicken breast and conventional, and the same goes for the ground turkey.  The ground beef is always organic and grass fed.  We buy cage free eggs, organic beans when possible, and our peanut butter is natural.
Lunch Protein Short Cuts
I cut raw chicken breasts into 4 chunks and freeze each chunk individually.  When I am in a hurry, I place a frozen chicken chunk in a glass pyrex baking dish and flavor it one of two ways:  with Italian spices & apple cider vinegar or muchi curry powder & coconut milk.  Then, I roast the frozen chicken chunk in the toaster oven.
Lima beans are my go to cheater protein source.  I cook them in the microwave.  But aha!   Yesterday, I scored perfect mom points because I cooked them in a glass pot on the stove.  For a quickie lunch that is essentially mess-less, I will take the nuke!  These pack well for outings, too.
For the ground turkey or beef, I cook a pound of it in a glass sauce pan with Italian seasoning and garlic powder.  Once it's cooled, I divide it into lunch portions in 1/2 pint freezer jars or (gasp!) plastic baggies.  Then, it all goes in the freezer.  When it's time for lunch, individual portions of cooked meat is almost ready to go.
Easy doesn't have to be junk.  Easy can be healthy.
What are you feeding your kids for lunch these days?  What's their favorite lunch?  Do you struggle with mom guilt over you kids' lunches?
Thanks for reading! Enter your email to send new articles directly to your inbox: