perfect for swimming rama
My two daughters visit a private, allergy friendly daycare one morning each week.  Here's the breakfast and morning snacks I packed for them this week:
organic oatmeal with cinnamon and organic raisins
organic kiwi
organic beets
non-organic broccoli steamed with coconut aminos
To be fair, I'll tell you that my "breakfast and morning snacks" that day included a cup of organic loose leaf Darjeeling tea, two organic hot dogs, and later, a 12 ounce Americano with half and half.  Please forgive my use of the half and half.  I really wanted to eat a kiwi with the hot dogs, but I chose to sleep in until 5:45 am, and didn't have enough time for that kind of luxury.
Do you really want some truth telling?  I'll disclose something else if you promise not to judge.
My dinner the night before my daughters' morning daycare visit consisted of two organic granny smith apples with a heaping half cup of crunchy Adam's natural peanut butter.  Because I fear your judgement of my consumption of non-organic peanut butter, let me give you my disclaimer.  I need Costco sized PB containers to sustain my PB addiction.  Ever since the peanut shortage in 2011, I have not been able to purchase Costco's organic PB.  They have continued to sell Adam's, so Adam's it is.  I can deal with Adam's non-organic peanut butter only because it is owned by the Smucker company.  My mom grew up in Ohio, across the street from the Smucker boys.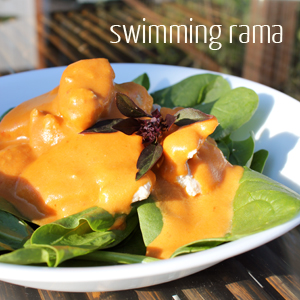 What was my dinner supposed to be that night? Swimming Rama.  In this popular Thai dish, boiled chicken is served on a bed of raw spinach leaves and topped with a generous scoop of Thai peanut sauce.  Fresh Thai basil is added as a garnish for a sweet, licorice tasting pop.  Kids especially like it when you add crushed, roasted peanuts on top. This is what my kids ate the night before their morning daycare visit.  They happily followed the meal plan, but they also had another human prepping their food for them (it wasn't me).  Since I was the only human involved in my dinner that night, I ran out of time to pack it for an evening clinic shift that ended at 9 pm.
You can use my Thai Peanut Sauce to make your own Swimming Rama, or you can use it for vegan friendly purposes and eat it on top of steamed broccoli.  You could put it on top of (whole grain) pasta, sigh, but you eat too much pasta so don't do that.  The point is to get creative by using it with some kind of vegetable situation.
The upside to my sauce is that it's made in the blender.  With so many things in my diet way more high maintenance than this, it's bliss to make a sauce with the flip of two Vitamix buttons.  After the sauce is blended, you can stop there and use the sauce with the raw garlic and onions, or you can cook it on low heat in a sauce pan to soften the garlic and onion flavor.  If you use a saucepan, it will need close monitoring and should not boil.  The sauce should last about a week in the fridge.
What's exceptionally nice is that the ingredients are not all uptight, like I can be sometimes a lot of the time.  Don't have a red pepper?  Try it without!  Like it spicy?  Add a real red Thai chili pepper instead of the whimpy cayenne.  Want more Thai umph?  Double the curry paste.  Want some sassy sauce?  Add fresh ginger.  You get the idea… lighten up on the rules like I need to do.
This Thai Peanut Sauce is flexible in the making and flexible in the eating. Heck, it might even be my next (unplanned) apple dinner dip.
Thai Peanut Sauce

Ingredients

1/2 onion
1/3-1/2 red pepper
2 garlic cloves
1/2 cup natural peanut butter
1 can organic full fat coconut milk
2 Tablespoons fish sauce
1 Tablespoon red Thai curry paste
1/4 teaspoon cayenne powder

Makes 3.5 cups of uncooked sauce

Blend all ingredients in a blender or Vitamix. Sauce can be used as is (raw) or cooked. To cook,  place sauce in a sauce pan without a lid.  Cook on low heat for about 20 minutes, stirring frequently. Make sure sauce does not boil and monitor it closely. If cooking the sauce, it will render about 2.5 cups. Best when served with fresh Thai basil leaves.

Thanks for reading! Enter your email to send new articles directly to your inbox: