most of these I didn't know until after graduation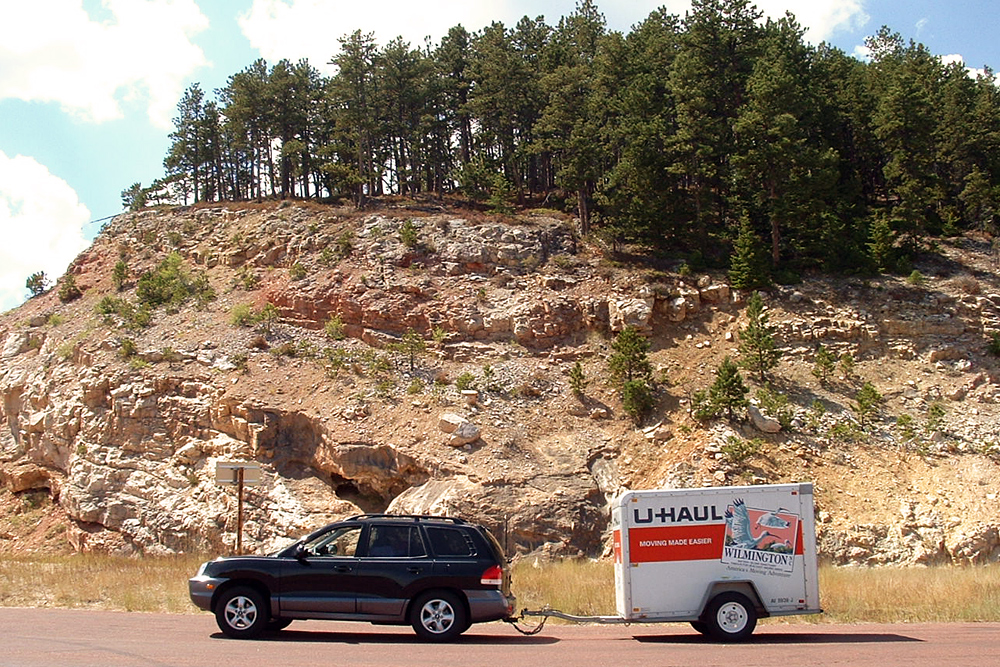 A month after I married the Wendy's Eating Husband, we road tripped across the good ole' U.S.A. as part of our cross country move from Pennsylvania to Seattle. We were moving to Seattle so that I could attend naturopathic medical school at Bastyr University. The petite U-HAUL trailer you see in the picture above housed the belongings of a naive 23 year old girl who had no idea what she was getting herself into. She knew that she was supposed to be a naturopathic doctor but that was about it. She did not calculate all it would cost her when it was all said and done (because it gave her too much anxiety). She did not consider that after she invested 6 digit figures in a medical education, she may not want to practice in an ND-unlicensed state, such as her home state of Pennsylvania. She certainly did not wonder about grown-up things like NPI#s and business licenses.
Unlike my 23 year old cross-country trekking self, I graduated knowing too much of what I got myself into. However, I still didn't know about all of the things that must be in place in order to legally practice as a naturopathic physician in Washington state. There are a lot of monkey bars to cross, most of which were not revealed to me in school.
You graduated medical school! You finally passed your clinical board exams! Ta-Da! Now you can go see patients….or not.
Bastyr made it very clear that in order to practice as a doctor in Washington state, I would need to graduate medical school, pass my board exams, and take a jurisprudence exam. Wow, that's all!?
I find it fascinating (I say that with bug eyes) that my required business courses in the program never outlined this process for me. Thankfully, a seasoned naturopathic physician helped walk me through this process. Since it was mostly new to me, I wanted to share it so that you can see all it takes to actually practice as a naturopathic physician. There's so many more steps involved than simply getting a degree and passing board exams (the two biggies).
The costs below are very close estimates of what it cost me to complete everything on the list. The day I graduated from Bastyr, I was 190K in debt, but that included both my undergraduate education at Penn State as well as my medical education at Bastyr University. Some of my colleagues who had to pay for living expenses during naturopathic medical school graduated with almost 250K in bank notes.
Here's a list of all you need to do to legally see patients in Washington state:
Pass your basic science board exams. 
$450
(This is the only step that is done prior to graduation, half-way through school)
Graduate from Naturopathic Medical School.
$200,000
Pass your clinical science board exams.
$850
Pass your jurisprudence exam.
$100
Apply for your Washington State Naturopathic Medical License.
$216
(You must pass both your basic science and your clinical board exams to apply for this)
Apply for a National Provider Index number.
*FREE*
Apply for malpractice insurance.
$1600
Apply for insurance credentialing.
*FREEBUTMAKESYOUWANTTOBANGYOURHEADONTHEWALL*
If working for yourself or as an independent contractor you need to do a few extra things:
Apply for a Tax ID Number (if you are starting your own business). 
*FREE*
Apply for a State Business License.
$29
Apply for a City Business License.
$100
All of the above is just to be able to legally practice and does not include any kind of business start-up fees like paying for office supplies, rent, medical equipment, etc. It is really just what you need to do to legally see patients.
If you want to become a naturopathic doctor, remember that you will be $200,000 in the hole when you graduate, and then you will need at least another $3000 to pay for all the business paperwork that must be in place to legally practice. Obviously these numbers won't be accurate several years from now, but perhaps this will help you understand what you're getting into a little bit more than my clueless 23 year old self.
Thanks for reading! Enter your email to send new articles directly to your inbox: