Texas meets the Middle East in a bowl of soup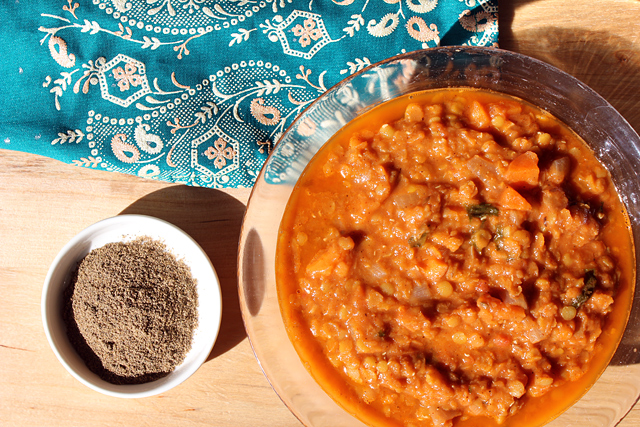 I'll be honest.  My husband won't eat this for dinner.  It's too veganly weird for him.  But he eats Wendy's for lunch, and therefore loses all taste bud cred.
If a Texan cowboy cooked vegan food with a barefooted yogi from northern India, they would probably end up with a Tex-Mex chili disguised as a middle eastern lentil curry.  That's what my Kashmiri Red Lentil Chili is — a little bit of Texas and a lot of Kashmir, all in one bowl.
The Kashmir flavors in this chili come from the use of Kashmiri masala, a spice blend from the Kashmir region on the northern Indian subcontinent.  Kashmir is a fascinating and beautiful place, even though it's been a source of controversy between India and Pakistan.
Kashmiri masala embodies an earthy pungency alongside the sweet flavors of cinnamon and clove – a flavor combination I've never had.  I use the blend made by MarketSpice, which contains only six spices.  Food made with this masala tastes very traditional to me.
Will you believe me, if I say this Kashmiri kicked chili is amazing?
Kashmiri Red Lentil Chili

Ingredients

1-2 Tablespoons virgin coconut oil or extra virgin olive oil
2 onions
3 garlic cloves, minced
fresh ginger about 1 inch in length, minced
1 Tablespoon cumin seeds
5 carrots, chopped
1 yam, cubed
3 cups red lentils, rinsed
1 28 oz. can organic crushed tomatoes
6 cups water (or more if needed)
1 Tablespoon chili seasoning powder
1 Tablespoon Kashmiri masala
1 teaspoon salt
1/2 cup roughly chopped fresh cilantro

Makes ~ 5 Quarts of Soup

Place a large soup pot on medium low heat.
Add onions & saute in virgin coconut oil or extra virgin olive oil until softened, about 10 minutes.
Add minced garlic, minced ginger, and cumin seeds.  Saute another 5-10 minutes.  Careful not to burn here!
Add carrots.  Cook another 5-10 minutes.  Add a little water if you need more cooking juice.
Add cubed yam, red lentils, organic crushed tomatoes, water, chili seasoning powder, Kashmiri masala, and salt.  Cook for about 30-40 minutes.
Stir in cilantro just before serving.
Thanks for reading! Enter your email to send new articles directly to your inbox: