lime & ginger animate spring time strawberries in this light dessert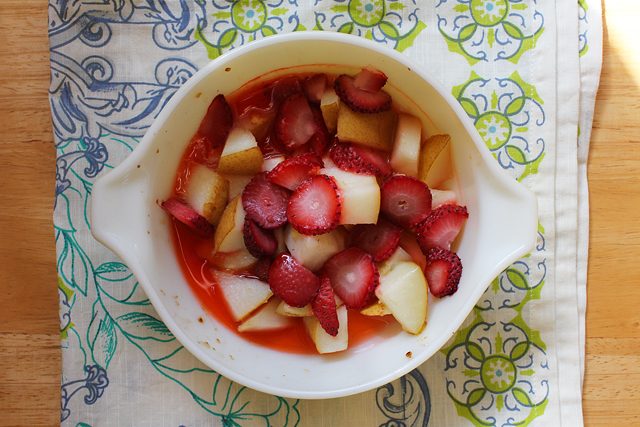 In my house, this is dessert.  It is simple as simple, which is why it is free of almost every allergen, except for citrus.  Should I bore you with the spiel of everything it is "free" of?  It's just fruit and ginger. That's all.  Talk about a Garden of Eden delight!  As pure to nature as it is, don't give it to your 9 month old baby.  She's not ready for strawberries or lime juice yet.
You don't need sugar or honey or lard or grains to make a delightful dish full of sweet, zesty spring. All you need is fresh lime juice and ginger!  It is the lime juice ginger combo that makes this dish taste like strawberries are dancing in your mouth.
Sometimes people think that eating a whole foods diet is too time consuming.  People, look at the ingredients to this recipe below!  This is simple, easy, and quick.  All it takes is half a pear that you don't even have to peel (we would lose too many nutrients if we did that!) and a handful of strawberries.  The other half of the pear can be diced up super small for your 9 month old baby to pick up with her developing pincer grasp.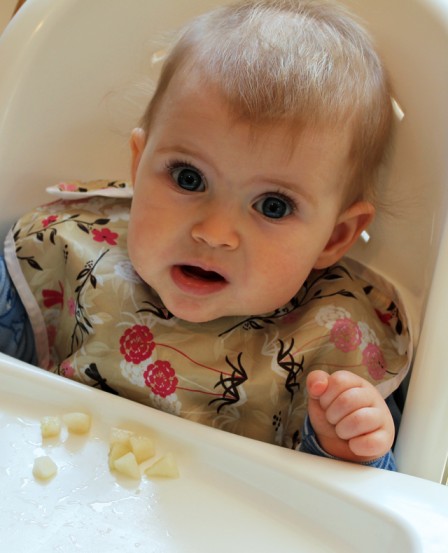 You can make it a single serving for two, as pictured above, and pop it in the toaster oven.  The toaster oven is a totally acceptable baking platform for your mini dessert.  Or you can triple the recipe for your family of 6 and bake it in the real oven.  It would also make the most lovely filling for a pie or tart.
I'm wondering if you're thinking that fresh ginger is a complicated type of food.  It doesn't have to be a high maintenance foodie thing if you keep it on hand as a staple — which you should, given all it's benefits and edible versatility!  Fresh ginger works well in both sweet and savory dishes, and like I said before, your green smoothie.  To preserve your ginger for quick but longer lasting freshness, peel your fresh ginger and store it covered with water in an airtight container.  That will make it friendly for you to whip out in a jiffy.
Use my recipe as a base and take it to new levels!  It would be absolutely fantastic with a dollop of homemade, unsweetened whipped cream or a drizzle of full fat coconut milk.  I would love to adorn it with crushed, raw hazelnuts, to be roasted with the fruit in the oven, but I'm holding off on tree nuts for the time being.  If you try the crushed hazelnut part, please let me know!
Gingerly Baked Strawberries & Pears with Lime

Ingredients

1/2 organic pear
4 organic strawberries
1 lime slice
finely grated fresh ginger ~ about the amount of 2 peas

Makes 2 servings

Chop pears and strawberries.
Squeeze lime slice over fruit.
Gently distribute fresh ginger by stirring the fruit mixture.
Cover and bake in a vintage pyrex baking dish at 350°F for 20 minutes.
Thanks for reading! Enter your email to send new articles directly to your inbox: