ginger smooched & served on thick slabs of grilled pineapple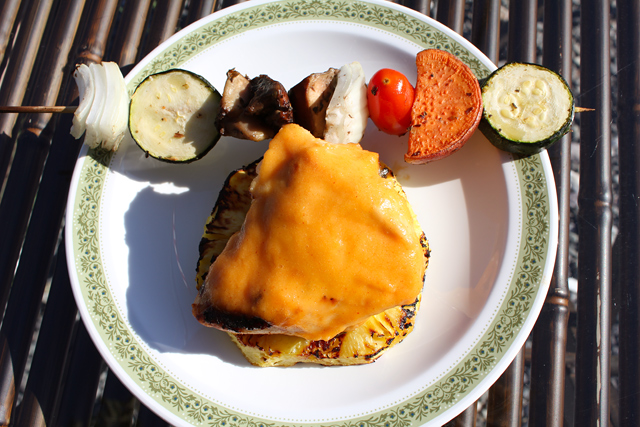 I am currently dairy, soy, gluten, tapioca, mango, tree nut, egg, chia seed, and hemp free.  Most carbs are out because they give me a shaky blood sugar event.  I am running out of options.  And no, I do not believe, from both my experiences and my education, that it is normal to have this many food reactions, allergies, and intolerances.  It is not normal.
BUT THANK GOD I CAN STILL EAT THIS KICKIN' PIÑA COLADA CHICKEN.  Seriously.
When I eat this sassy Hawaiian styled chicken, I do not feel deprived.  It tastes like a girly tropical cocktail reincarnated on the grill—pineapple garnish included but sans the rum.  Paprika and cayenne carry this creation to the savory side, and fresh ginger ties it all together.  Perhaps that fresh ginger will counteract all those pro-inflammatory free radicals that are produced from the blackening of the chicken on the grill.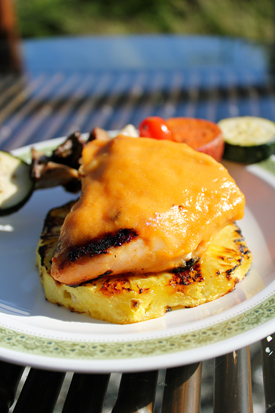 The recipe is flexible, as long as you have the basic ingredients.  You could use crystallized ginger instead of the fresh ginger.  You could use Trader Joe's chile spiced pineapple in the sauce instead of the canned pineapple and cayenne, but you will probably need more coconut milk if you do that.  If you have diabetes or reactive hypoglycemia, you should omit the honey.
If you want people to think you used to be the head chef in a restaurant, make this on Memorial Day.  It is one of my most well loved recipes, east and west coast alike.  Your friends will never know you got it off a hippie weirdo food website.  Even the manliest of men have succumbed to its succulence.
A little a-f business news flash for you:  I am not limiting a-f recipes to things that I can only eat in the present moment.  I would like everyone to find whole foods, blood sugar balanced recipes here.  Eat what is friendly for you!  Red Moose Cloud developed a new recipe filtering system for archerfriendly so that you can find recipes specific to your own food allergies. Check it out on the food page.
Kickin' Piña Colada Chicken

Ingredients

4 chicken breasts
1 fresh pineapple
1 20 oz can of sliced pineapple in pineapple juice (make sure there is no added sweeteners!)
5 quarter-sized slices of fresh ginger
1/2 tsp paprika
1/4 tsp cayenne
1/4 cup full fat coconut milk
1-2 spoonfuls of honey

Makes 8 servings

Slice chicken breasts in half, making 8 pieces.
Drain pineapple juice from the canned pineapple.
Marinate chicken in the drained pineapple juice while you prepare the sauce.
Place the canned pineapple slices in the blender (or Vita-mix) along with the ginger, paprika, cayenne, coconut milk, and (optional) honey.  Blend until silky smooth.
Add a dollop of the sauce to the chicken to get all the flavors marinating.
Prepare the fresh pineapple by removing the rind (but do not remove the core—this helps the pineapple hold together on the grill), then slice into 8 even discs.
Heat up the grill to about 400°F.
Place chicken and pineapple slices separately on the grill.
Add a spoonful of sauce and spread it on top of each chicken (you don't need too much here yet, as you'll lose some when flipping the chicken).
After about 8 minutes, or when the chicken are starting to firm up, carefully flip each piece of chicken and pineapple.
Distribute more sauce liberally across all of the chicken, reserving some for later.
When the pineapple slices have a nice browning on both sides, remove and set aside.
After about another 6 minutes, or when the chicken reaches an internal temperature of 165°F, remove each piece.
Prior to serving, place each chicken piece on a pineapple slice, and top with a dollop of the remaining sauce.

Note: Make sure to not contaminate the sauce with raw chicken, so it can be added after the chicken comes off the grill!

Thanks for reading! Enter your email to send new articles directly to your inbox: