high fiber, allergy friendly, and sweetened with a whole pear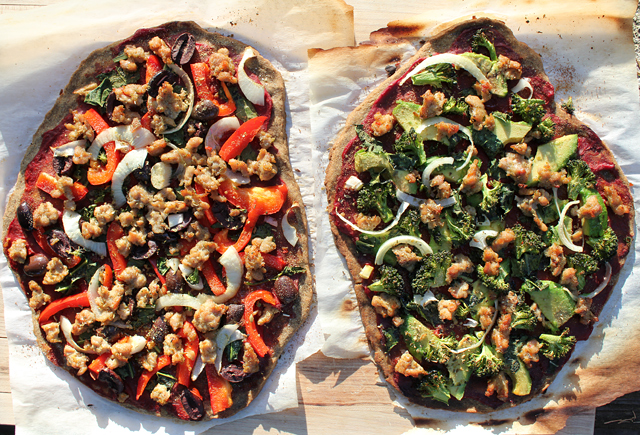 My two sisters and I had to mind ourselves after school every day because my mom worked full-time and functioned as a single mom.  She trained us in the ways of staying home alone, with the number one rule ingrained in us:  NEVER, NEVER ANSWER THE DOOR when she wasn't home.  She regularly ran down the list of all the terrible things that could happen to us if we broke this rule.  If someone knocked on our unpainted front door when no parents were home, it resulted in a high schooler, a middle schooler, and a 5th grader running to their bedroom closets to hide until the person out front disappeared.
Our NEVER, NEVER ANSWER THE DOOR rule created some problems for our home alone Friday pizza nights (in other words it was Mom's night out).  We would all look at each other with dropped jaws, elevated eyebrows, and squeal in fear as soon as the pizza guy's car pulled in front of our house.
My sisters were so good at hiding from the pizza guy that I would almost always be the one answering the door.  Because this annoyed me, I would sometimes choose to hide from the pizza guy just to push their buttons.  If I eluded the pizza confrontation, and the pizza guy was out there waiting and knocking and waiting some more, someone else would have to answer the door.  This was my control freak therapy for their pizza guy phobia.
If the pizza guy brought this a-f pizza to my door, I wouldn't be pulling any tricks to get someone else to answer it.  I might even be waiting in the driveway for it, ready to snatch it from his hands because archerfriendly pizza delivery is non-existent in my world right now.
Most gluten-free pizza crusts contain dairy, soy, or tapioca.  These ingredients eliminate most gluten-free pizza for me, whether it is from a restaurant or in a pizza crust flour mix.  If a pizza crust happens to be allergy friendly, it also has to pass the blood sugar friendly test, and most do not.  These stipulations make it almost IMPOSSIBLE to eat out at a restaurant that says they have "gluten-free pizza", let alone make one from a mix.
I wish this recipe was available as a packaged mix so that I could spend more time watching Monk touch everything with baby wipes instead of making homemade pizza all night long.  I grind my own white bean flour as well as flax seeds, which makes this recipe a little labor intensive.  But you can go easy on yourself and purchase them already ground (but they won't be as fresh or nutritious).
I love that leftover pizza slices made from this recipe still retain their shape several days later.  With other pizza crust recipes I have tried, the pizza leftovers looked like a toddler crumbled everything into an unappealing pizza mush.  Not only does it hold together well, but it is an allergy and blood sugar friendly superstar, high in fiber, and vegan adaptable.  I also love that just a pear is used to feed the yeast in the dough.  I feel normalfriendly when I eat pizza made with this pizza crust recipe.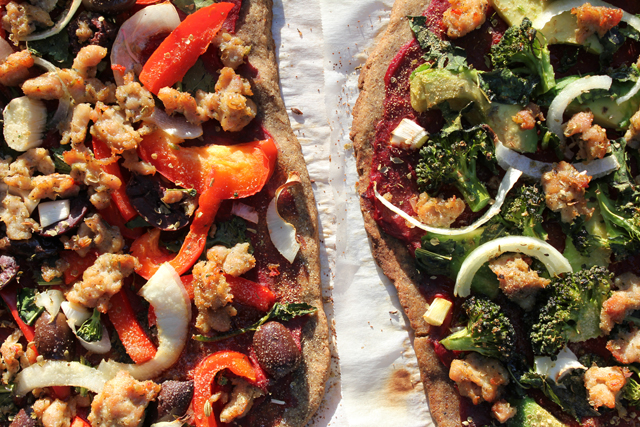 Gluten-Free Whole Grain Pizza Crust (Vegan Adaptable)

Ingredients

2 cups sorghum flour
1/2 cup ground flax seeds
1/2 cup white bean flour
1 teaspoon salt
2 1/4 teaspoons active dry yeast
2 large eggs OR a-f egg substitute (below)
3/4 cup pureed pear (pureed with skin) ~ equates to about 1 medium sized pear
1/4 cup extra virgin olive oil
1/2 cup warm filtered water

a-f egg substitute for vegan option:  
Place 2 Tablespoons ground chia seeds plus 1 Tablespoon ground flax seeds in a liquid glass measuring cup.  Fill liquid measuring cup with water until it reaches the 1/2 cup mark.  Stir and let it sit for at least 10 minutes (a longer amount of time is totally fine).

Makes two 10 inch pizzas

Prepare two parchment paper surfaces for rolling the pizza dough.  The parchment paper may need taped down or stabilized with heavy objects.
In a large mixing bowl, thoroughly mix the sorghum flour, ground flax seeds, white bean flour, salt, and active dry yeast.
Add the eggs (or vegan substitute), pureed pear, extra virgin olive oil, and warm filtered water.
Use your hands or a powerful electric mixer to blend the ingredients into a beautiful dough.
Divide the dough into two.
Roll each dough with a lightly oiled rolling pin (olive oil works well) on your pre-prepared parchment paper surface until the dough is about 1/4 inch thick.
Transfer the dough on the parchment paper to a pizza or broiler pan (the broiler pan works great if you haven't invested in an actual pizza pan!).  The pizza will bake in the oven on the parchment paper, so don't try to remove it.
Let the pizza rise, while it sits on the parchment paper, on its baking pan, for 1 hour.   Set your timer for 50 minutes, and preheat your oven to 400°F when it dings.  If it takes 10 minutes to heat your oven, it will give you about an hour of rising time.
Bake the crust without any toppings or sauce at 400°F for 10 minutes.
Add sauce and toppings, and then bake again at 400°F for another 20 minutes.
Thanks for reading! Enter your email to send new articles directly to your inbox: