Earthy, sweet, gluten-free and vegan
My mom liked to say that the Coors Light Drinker taught me how to drive.
If you count, "Get in the left lane, turn your blinker on … now turn left!", as a driving lesson on Route 61, then I guess he taught me how to drive… to the liquor store.
It was very clear to me that the Coors Light Drinker never taught me how to drive. I figured that out on my own, while driving a white mustang from Alabama to Pennsylvania, with my mom and the Coors Light Drinker making out in the back seat. And then there was my best friend from high school who rehearsed the driver's test with me at the driver's license center, over and over and over, so that I could pass.
While I can't give the Coors Light Drinker any credit for my driving skills, I do give him some points for encouraging me in a way I'll never, ever forget.
Let's stop there for a moment. Did you read that? I said that the Coors Light Drinker encouraged me.
It feels sacrilegious to write that, since he destroyed so much of my life. There's a huge part of me that wants to give him ZERO CREDIT for anything. It's a twisted thing to acknowledge that he encouraged me, like I'm making some kind of joke. The pain inside of me wants to laugh it off. There is a funny smell to it.
But it's true.
I've told you before that the Coors Light Drinker sold cars, albeit very shadily. He had a way with words, like most salesmen do. I could strike up a conversation with him and enjoy it.
When I first got the most likely diagnosis of interstitial cystitis (IC) from the urologist, I was prescribed the lovely IC diet. At the time, I had already been following a whole foods based sugar-free diet. The IC diet listed healthy, whole foods as bladder irritants. That's what stunned me the most. All these foods that I could no longer eat if I wanted a pain-free life.
It was the Coors Light Drinker who said to me, "Of all people, Archer, you're the one who can do this [diet]. You're creative and smart and you know how to work with food. You'll be able to figure this out no problem."
Now, I didn't have a moleskin notepad in my pocket, so those words aren't X-Acto knifed from a journal, but they are, to the best of my memory, the gist of what he said.
My diet has since evolved, significantly. Thankfully, I no longer have interstitial cystitis.
The Coors Light Drinker was right! I figured this archerfriendly diet out, "no problem". It has been NO PROBLEM to put white beans in my peanut butter fudge and white beans in my chocolate chip cookies. And ta-daaaa! I PUT THEM IN MY FROSTING. Yes, I did do that. This chai frosting recipe contains WHITE BEANS!!
White beans are my trick to cutting the overpowering coconut oil taste when you're dairy-free and use coconut oil for everything. White beans are my secret coconut oil frosting ingredient. As long as they are pureed, they hide right in there. They help balance the blood sugar, since frosting kills beta cells. Throwing a little protein and fiber in your frosting is always a good idea. (My next goal for white beans is to put them in my ice cream. Yes, I just said that.)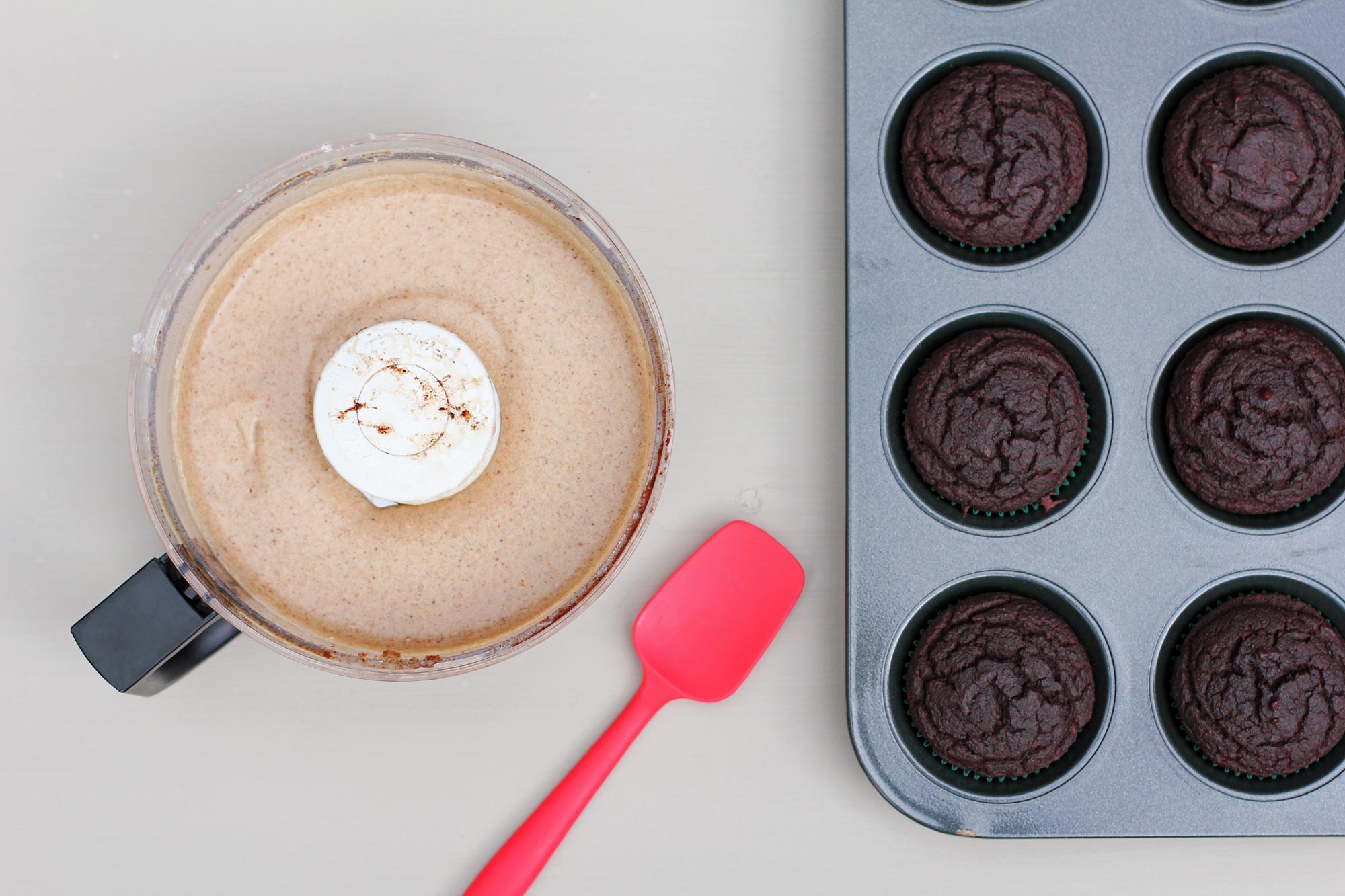 I suspect that the white beans prevent the frosting from getting too fluffy. I'm OK with that. The white beans help the frosting in every single way. Cuts the coconut oil taste and helps the blood sugar and serves as a volume substitute to use less sugar. This is an everybody-is-winning situation.
And then there's these chocolate beet cupcakes. I am so proud of them. They are sweeter than most of the food I make, but don't get too excited over that — if they were too sweet, I wouldn't be able to stomach them. But they're sweeter than my everyday archerfriendly food, so that's why I think you'll like them.
With that, I offer you one of my best archerfriendly creations: chocolate beet cupcakes with chai frosting. The Wendy's Eating Husband would buy these for dessert if he had the option (he actually did eat and love them for his birthday!). Now I just need to open up an archerfriendly cafe so you could buy them too…
Make sure you read the whole recipe before making the cupcakes! It is a committed endeavor. Note that this recipe does not translate well as a cake (I tried).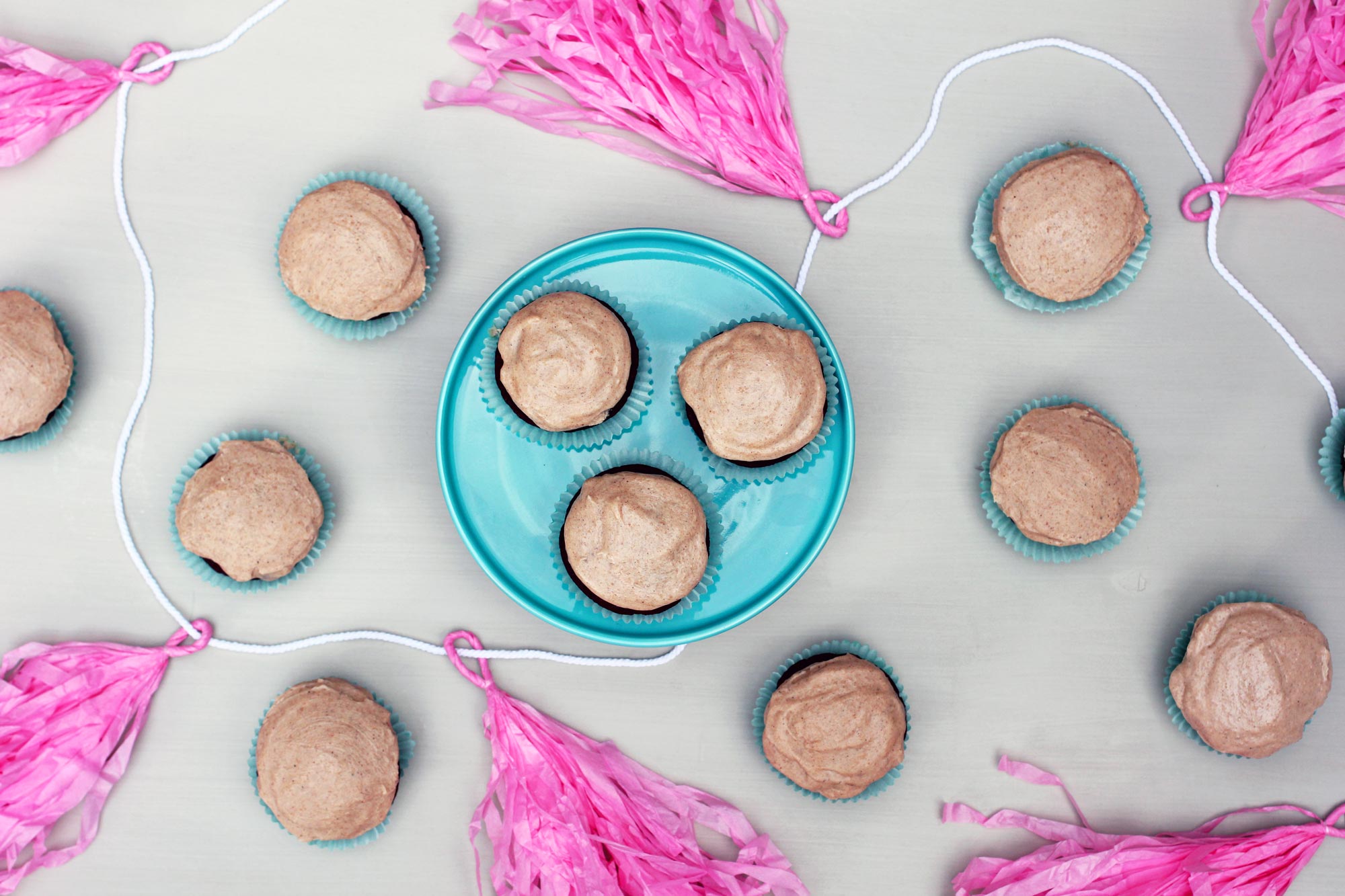 Chocolate Beet Cupcakes with Chai Frosting

Ingredients

Dry Ingredients

1/2 cup + 1 Tablespoon organic raw cocoa powder
1 3/4 cups brown rice flour
3/4 cup chickpea flour
1/3 cup ground flax seeds
1/2 cup coconut palm sugar
1 1/4 teaspoons baking soda
1/4 teaspoon sea salt

Wet Ingredients

1 cup pureed beets (cooked, about 4 small beets)
3/4 cup extra virgin olive oil
1.5 cups filtered water
1 Tablespoon vanilla extract
1 Tablespoon balsamic vinegar

Frosting

1/4 cup cold chai made with 1 cup boiling water poured over 2 Tazo Chai tea bags and 1 star anise
1 cup cooked white beans, slightly packed when measuring, chilled
1 cup virgin coconut oil
2 teaspoons vanilla extract
2 teaspoons ground cardamom
1 teaspoon ground cloves
1/4 teaspoon ground ginger
1/4 teaspoon ground cinnamon (no saigon)
pinch sea salt
2 cups powdered sugar, sifted before measuring (I grind my own powdered sugar using organic evaporated cane juice)

Makes 12 cupcakes

The day before you make these cupcakes, I highly recommend doing the following:

Cook white beans for the frosting (if you're not using canned beans). Cook until very tender.
Boil the beets. Do not bake or roast the beets as this could throw off the moisture ratios in the recipe. I recommend boiling 6 medium sized beets to ensure you will have enough. Whatever doesn't need pureed, you can eat! Chill beets, then puree them. You will need 1 cup pureed beets for the recipe.
Brew and chill the chai. Pour 1 cup boiling water over 2 Tazo chai tea bags and 1 star anise. Brew for 10 to 12 minutes. Strain. Store in the refirgerator until use. You will only need 1/4 cup of this for the frosting. Skip the star anise if you want, it's not a deal breaker.

A note about measuring the flours. For the cocoa powder, brown rice flour, chickpea flour, and ground flax seeds, I sift them prior to measuring. After I sift them, I use a spoon to put the sifted flour in the measuring cup. I sweep over the top of the measuring cup with a knife to level it off. You must sift the flours, including the cocoa powder, prior to measuring.  If you don't, your cupcakes may turn out differently than mine. I use a fine mesh stainless steel strainer to sift. I also grind my own brown rice flour with short grain brown rice. I grind my own flax seeds as well.

Preheat oven to 350° F.
Prepare 12 cupcake molds with paper liners.
Blend cocoa powder, brown rice flour, chickpea flour, ground flax seeds, coconut palm sugar, baking soda, and salt in a large mixing bowl. Mix ingredients evenly and set aside.
In a blender or Vitamix, blend 1 cup pureed beets, extra virgin olive oil, filtered water, vanilla, and balsamic vinegar.
Slowly pour liquid blended mixture into the dry ingredients bowl. Mix well.
Bake for 25 to 28 minutes at 350° F. They are done when a toothpick comes out mostly clean and center of cupcakes are able to slightly bounce back when touched.
Cool completely before frosting. Frosting spreads best on cupcakes that have been refrigerated.

For the Frosting:

Puree the chilled white beans in a food processor with the 1/4 cup cold chai, being mindful that the white beans are fully pureed.
Add the rest of the frosting ingredients directly to the food processor. Depending on the size of your food processor, you may need to blend the frosting in two batches.
Blend on low until frosting becomes fluffy — about 3 to 5 minutes. The temperature of your coconut oil will vary blending times and fluffiness. If the frosting gets too warm (because coconut oil is temperature sensitive), remove food processor work bowl and place in the fridge for 5-10 minutes to firm it up.
Spread frosting on cold cupcakes. There will most likely be extra frosting if you only use a thin layer on your cupcakes. However, if you'd like to pipe it on, you may have enough to do that as well. I have not tried piping it yet. The frosting freezes very well if you want to save extras.
Thanks for reading! Enter your email to send new articles directly to your inbox: