So happy with where I work, and I know you'll love it too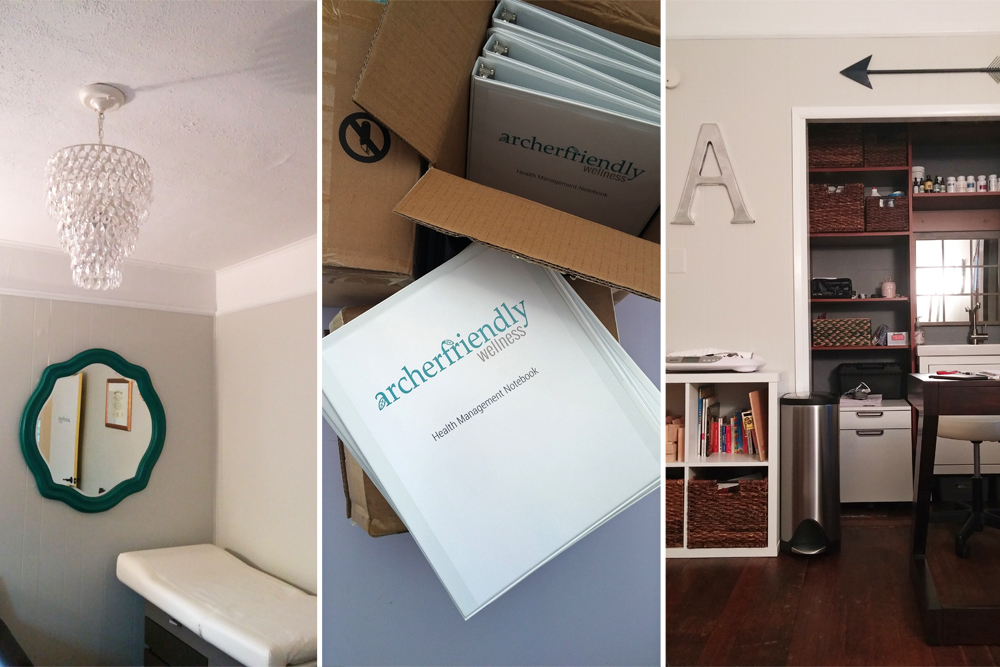 Things weren't going well at the last clinic where I worked. I wrote about that here. It was so uncomfortable there, that I believed I only had two options: stop practicing until my contract ended or endure the rest of my two year contract.
I never want to be a quitter. I was raised being told, "You start something, you finish it." You complete what you signed up for. Always. No matter what. As a result, when I can feel in my bones that something isn't working out, my instinct is to suck it up and finish what I signed up for.
While pursuing the endure option, I realized that it would only work if I shut down. By shutting down, I'm talking about going into complete numb mode where you're so cut off emotionally, absolutely nothing gets to you (both joy and pain). Are you really enduring if you are shut down? That is not survival. That is death. Where is the health in forcing yourself to stay in an unhealthy situation? Sometimes being the quitter means saying "no" to that which will ruin us if we stay.
While I was at this clinic, I met up with one of the Snohomish Midwives for coffee. Before I met her, I kept chanting to myself that I wasn't going to say anything about how bad it was at the clinic where I worked.
She was so kind and genuine and present and warm. Somehow the topic came up anyway. I told her.
This is what she said in response:
"You can come here if you'd like. I have an extra room. I can get it ready for you as soon as possible."
And that began the story of where I am now. It brings tears to my eyes to write!
I am so glad I never called it quits on my career because I AM LOVING EVERY SECOND OF IT NOW. I opened my doors a few weeks ago, and everything has been so wonderfully better than I could have ever imagined. I feel so incredibly blessed, and I deeply believe that this is the beginning of some really good, good things. I am ready for the good!
I love every single thing about my new practice, and I think you will too.
All this to say that I AM SO INCREDIBLY HAPPY with where I work now and I AM SO INCREDIBLY HAPPY with my new practice. I hope you feel all these happy vibes when you come. 
Please have a look at the new website: ARCHERFRIENDLY WELLNESS. Definitely check out the Frequently Asked Questions section, as that explains a lot about how my new practice works.
As a unique micropractice, I set things up differently. I don't take insurance, all scheduling is done online, and I have flat rate visit fees (more on that next). My new patient intake forms are a little intense (sorry), but it's because I put a lot of information in there on how my practice works. I do things differently than your average doctor's office, and I want you to know what to expect.
I set up my cash based pricing structure unconventionally. I initially started with a flat rate visit fee for kids ($100), for up to an hour visit. I had the adult pricing structure set up based on time: 30 minutes was $125, 45 minutes was $150, etc. However, the flat rate fee for kids was GOING SO AMAZINGLY WELL, that I decided to switch over the pricing structure for adults too. So now, there is a flat rate fee for adults ($150) for up to an hour visit!
In the flat rate fee system, the idea is that it's the same price every time you "go to the doctor". So if that's for a 15 minute cold, a 30 minute follow-up to see how your foot healed up, or an extended 60 minute visit to thoroughly discuss your lab results — it's all the same price!
Remember, too, that in cash based practices, you can often submit a special form to your insurance company for out-of-network reimbursement.
Every new patient that comes to see me will get their very own Health Management Notebook. I talk about their importance here. I like to help patients in the ways that I need to help myself. My name is Dr. Archer and I have a paper problem. However, the only papers I have that are truly organized are my health papers because they live in my very own Health Management Notebook!
I'll leave you with a picture I took from my phone last week. This is the morning view on my drive into downtown Snohomish (where my office is located).
Thanks for reading! Enter your email to send new articles directly to your inbox: