These Strawberry Rhubarb Scones are my first venture into the world of rhubarb baking. Strange to say on my own blog, but I found these scones okay. I definitely prefer rhubarb raw (in fresh vegetable juice and smoothies). You should only eat the stalks since the leaves are poisonous. I love that rhubarb is anti-inflammatory and anti-cancer. Food as medicine, right? Gimme all that.
The texture of the rhubarb in the scones reminded me of crunchy celery bits. Even though it didn't really taste like celery. My girls did not like the rhubarb in the scones… at all. I double checked the recipe by making a batch of strawberry only scones, with extra strawberries in place of the rhubarb. My girls enjoyed them a lot more that way, but then they weren't the biggest fans of the white chocolate glaze. Sigh.
Since archerfriendly is basically my online diary of all the food I make, I couldn't pass up the opportunity to put them up on here, but I will admit that they are not my favorite. I debated not even posting them, but the pictures are so beautiful, I couldn't resist. While I always preferred white chocolate over any kind of brown chocolate, I didn't necessarily love the white chocolate combo with the scones. My nanny liked them, does that count?
Sunspire Chocolate was super generous and sent me a box of their chocolates. I actually requested their white chocolate chips because I thought I'd be a good wifey and make some healthified white chocolate chip cookies for my cookie deprived Wendy's Eating Husband. I've been wanting to start creating recipes for the Wendy's Eating Husband ever since that birthday cookie fail. But you know, the cookies would have to be mostly allergyfriendly and, of course, healthier than other versions. The Wendy's Eating Husband doesn't like the unsweetened food I make, so for him to like something, it needs to be much sweeter than I prefer.
I thought it would be fun to add those kinds of recipes on here… and hence why I wanted those white chocolate chips. Anything I make at home would be significantly better for him than those Pepperidge Farm cookies he likes to buy. What do you think about this? Would you like to see healthified allergyfriendly treats for the Wendy's Eating Husband on the blog?
I haven't eaten a lot of white chocolate ever since I've gone mostly sugar-free, and I've struggled to make a decent homemade version from cocoa butter. I also grew up eating white chocolate Easter bunnies instead of milk or dark chocolate ones (anyone else!?). Oh, and Zero bars. Loved those! While most white chocolate candy is too sweet for me these days, I thought that the pairing of the sweet white chocolate glaze on the sugar-free scones would be a great match (the scones are sweetened with stevia and pureed pears only).
I was so excited when I got the white chocolate chips in the mail, that I wanted to use them RIGHT AWAY and the Strawberry Rhubarb Scones were next on my baking list. You know how that story ends. But like I said already, I'm not sure how much I like the white chocolate flavor with these scones. Because of that, I'm already day dreaming up other recipes where I can use white chocolate chips (beyond a cookie for the Wendy's Eating Husband). I'm envisioning white chocolate turmeric cups (you know, like peanut butter cups, except with white chocolate and a turmeric based filling).
Technically, these are paleo and grain-free. They contain hulled buckwheat flour. Some grain-free purists consider buckwheat a "grain" but botanically it is not a grain. Get this though! Buckwheat and rhubarb are botanical relatives, so I think it's extra cool that they get to hang out together in these scones.
Wondering why on Earth I put gelatin in my scones? I know it's kind of weird, but it is for extra protein. I am all about trying to get as much protein as possible in all the baked goods I make. I'm allergic to eggs, so there goes that protein source.
I can't end this post without mentioning the fact that I USED BUTTER in the scones. REAL COW BUTTER, PEOPLE. After being strictly dairy-free for many years, I lost my taste for cow butter. Although I'm no longer strictly dairy-free, I've never quite got the taste back for cow butter. It tastes too farm-y for me. So why did I even use butter?? Coconut oil has been my main butter substitute over the years and I'm getting a little tired of the coconut oil taste. I'm pushing myself in hopes of a different non-coconut-oil flavor. Maybe the cow butter is why I find these scones okay?  If I make them again, I will try using coconut oil in place of the butter! That might do the trick.
I enjoy these best generously dusted with Saigon cinnamon (not pictured).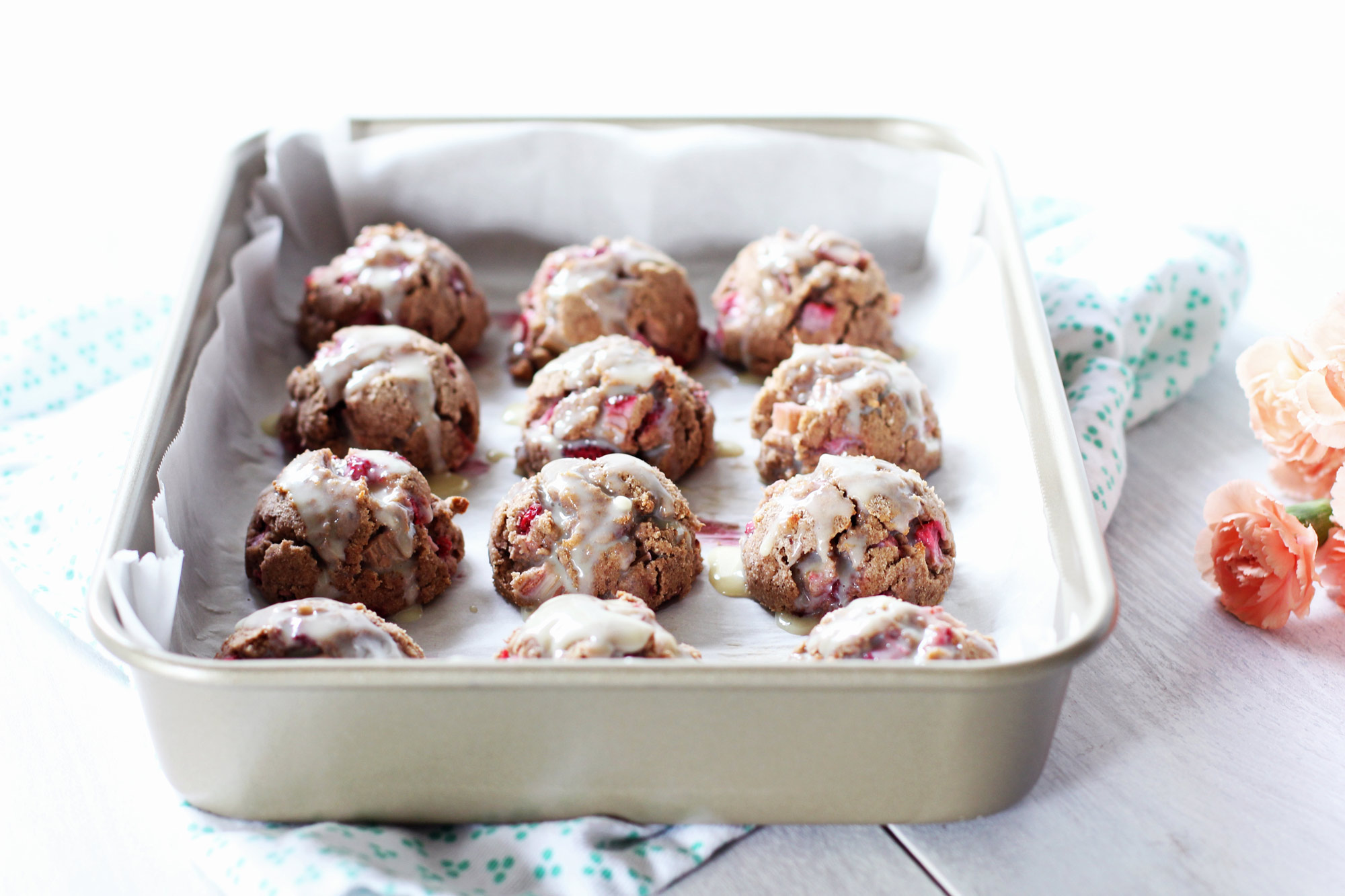 Strawberry Rhubarb Scones with White Chocolate Glaze

Ingredients

Scones

1/2 cup white bean flour
1/2 cup full fat coconut milk
1 Tablespoon fresh lemon juice
1 cup hulled buckwheat flour (sometimes called light buckwheat flour)
1/2 cup ground flax seeds
1/2 cup coconut flour
2.5 Tablespoons Great Lakes unflavored beef gelatin
1 teaspoon baking soda
1/4 teaspoon salt
1/4 teaspoon powdered stevia
1/8 teaspoon cinnamon, optional
1/4 cup Kerrygold butter (or coconut oil to keep it dairy-free)
3/4 cup pureed pear with the skin, previously frozen (see how I prepare my pureed pears in this post)
1 Tablespoon vanilla extract
3/4 cup diced rhubarb (stalk only)
1 cup diced strawberries

White Chocolate Glaze

1/2 cup Sunspire white chocolate chips (fyi – white chocolate chips are not dairy-free)
2 Tablespoons full fat coconut milk or heavy whipping cream

Makes about 16 scones

Equipment Needed: Vitamix if grinding your own flour, a food processor, and two 3 quart glass oblong Pyrex baking dishes

The Scones

Mix the white bean flour, coconut milk, and lemon juice together in a bowl. Let it sit at least one hour. (The purpose is to soak the white bean flour to help with digestion.) It will turn into a paste like consistency. That's OK! It's also OK if it sits a little longer than an hour.
If you are using pre-frozen pear puree, make sure to pull it out of the freezer, remove it from the ziploc bag, and let it begin the thawing process in a bowl.
Line two 3 quart oblong glass baking dishes with parchment paper and preheat the oven to 375° F.
In another mixing bowl, thoroughly mix the rest of the dry ingredients together — the buckwheat flour, ground flax seeds, coconut flour, gelatin, baking soda, salt, stevia, and optional cinnamon.
Place the white bean flour/coconut milk/lemon juice mixture, the butter, the pear puree (whether it's frozen or thawed), and the vanilla in a food processor. Blend into smooth.
Chop the rhubarb + strawberries if you haven't done so yet. Chopping them now gives the white bean flour more time to soak.
Take the wet mixture from the food processor and mix it with the dry ingredients in the mixing bowl.
Once the dough is thoroughly mixed, add the diced rhubarb and strawberries. Carefully, evenly distribute throughout the dough.
Use a trigger ice cream scoop to scoop out the dough in rounded balls. Place scoops on the parchment paper lined glass baking dish.
Bake @ 375° F for 25 to 28 minutes or until done.

The Glaze

In a double boiler, melt 1/2 cup Sunspire white chocolate chips with 2 Tablespoons of coconut milk or heavy whipping cream. Stir well. Drizzle on scones. Scones should not be hot when applying the drizzle, but it is OK if they are warm.

Notes:

Please read this post on how I prepare my pureed pears. I have had some people use unripe pears for their pear puree and the recipe doesn't quite work as well. For this recipe, I simply pulled out one of my previously frozen 3/4 cup pear puree packets. I let it sit on the counter for a little bit but it was mostly frozen when I worked it into the recipe.
I make my own buckwheat flour in a Vitamix with raw, hulled buckwheat. Make sure you do not use unhulled buckwheat flour, which is darker in color and would provide a different flavor.
I made these both with and without the 1/8 teaspoon cinnamon. I couldn't decide which version I liked better! You decide.
Pulsing the diced rhubarb in your food processor may help minimize any crunchy texture issues.
Note that the rhubarb and strawberry mix-ins are MAXIMIZED. It will feel like there are too many! It's OK, it will still work. Make sure not to pack down the measuring cups or you will have too much.
Baking time is for baking the scones on a glass Pyrex dish. If you are using a different type of pan, the baking time may be different.
I like them best generously dusted with Saigon cinnamon on top of the white chocolate glaze.
Thanks for reading! Enter your email to send new articles directly to your inbox: